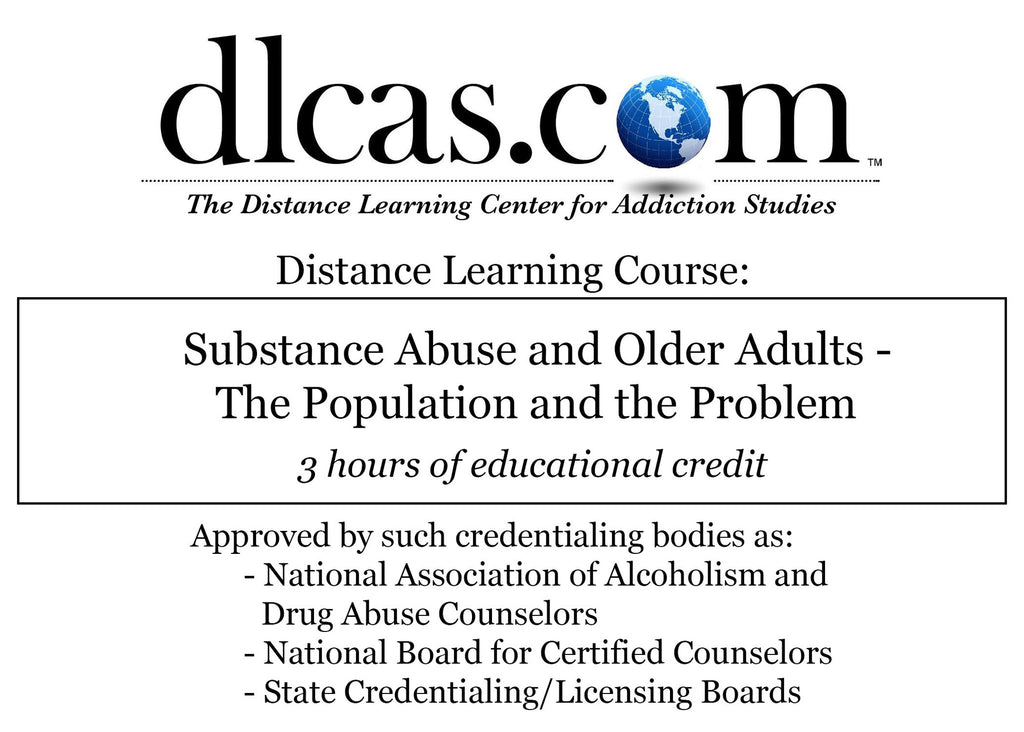 Substance Abuse and Older Adults - The Population and the Problem (3 hours)
---
This 3 hour course by Gerald Shulman is designed to provide insight and information about the treatment needs of older adults. It will provide both insight and an overview to the older adult population, identifying various problems and issues that drugs (licit and illicit) and alcohol cause in this group, as well as unique counseling issues and needs.
This course is part of our Substance Abuse and Older Adults series.  Courses in this series include:
Substance Abuse and Older Adults - The Population and the Problem 
Substance Abuse and Older Adults - Assessment and Treatment Issues
Goals/Objectives
By participating in this Distance Learning Course the trainee will:
Identify the various groups the make-up this population.
Examine various myths and stereotypes.
Review the history of this population and its growth.
Explore special problems that exist for this population.
Identify treatment strategies.
Gerald Shulman, MA, MAC, FACATA, is a clinical psychologist, Master Addiction Counselor, Fellow of the American College of Addiction Treatment Administrators and board certified by the American Academy of Psychologists Treating Addiction. He has been providing treatment or supervising and/or managing the delivery of care to alcoholics and drug addicts in single and multi-site systems full time since 1962.
Among his accomplishments, he was an author of the NAATP, the ASAM and the ASAM PPC-2 and ASAM PPC-2R Patient Placement Criteria and is a member of the ASAM Patient Placement Criteria Steering Committee. He was a panel member and workgroup chair for CSAT's TIP #26, Substance Abuse Among Older Adults and is co-editor of the Journal of Chemical Dependency Treatment.
He is a trainer and consultant who has provides services in the public and private sectors, both civilian and military, to treatment providers, managed care staff, drug court staff, counselor associations, conferences on alcohol and drug issues, state and federal governments and EAPs. He is particularly interested in treatment for dually diagnosed patients and in developing "seamless" continuums of care. His approach to clinical care is one that blends biopsychosocial, disease model, and Twelve-Step philosophy with the best of psychiatric and mental health delivery systems.
Internet Format - Coursework that is available immediately via a downloadable PDF file (a popular online format that requires you to have the Adobe Reader program, or one similar, installed on your computer). Many websites already use this very user friendly file format, so chances are you already have a PDF reader installed on your computer. This format allows faster downloading, easier reading, and easier printing. All course materials will be included, as will the link to the post-test required for course completion. Access and downloading information will be immediately sent to the email address you provide at checkout. There is no additional charge for this format.
USB Flash Drive Format - Different computers, processors, ISP's, and software make it sometimes difficult or time-consuming to capture materials provided via the Internet. As a result, we've added the Flash Drive format to our list of options. With this format we will send you a Flash Drive by Priority Mail that can be used on any computer, laptop, tablet with a USB port. The drive will include a PDF copy of the course or courses ordered along with the test link needed to complete your course using our online test system. This option will include additional per course costs for materials/shipping/handling.
Hard Copy Format - Coursework that is delivered to you by Priority Mail in book form. All course materials will be included, as will the post-test required for course completion. For immediate results and faster certificate processing an email containing instructions on how to access your post-test online will be sent to the email address provided at checkout. Should you not want to submit the test yourself, a mail/fax form is also included that will allow you to mail or fax your test responses to us for processing. Hard copy courses will include additional per course costs for materials/shipping/handling.
---
Share this Product
---
More from this collection