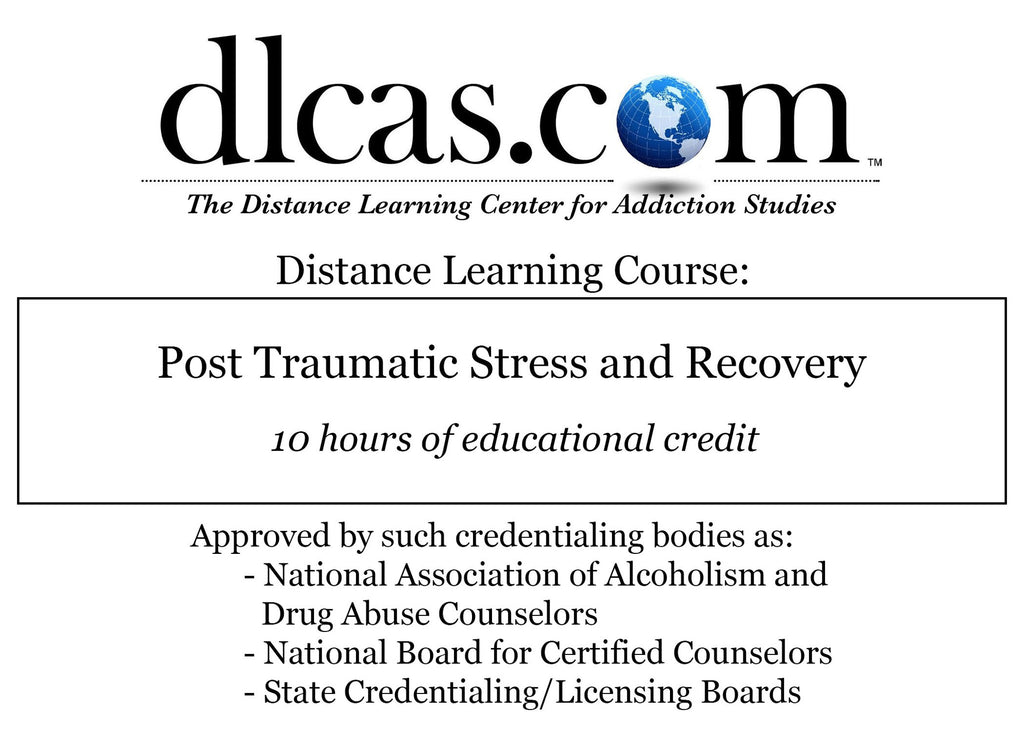 Post Traumatic Stress and Recovery (10 hours)
---
Post-traumatic stress disorder (PTSD), and its sub-threshold forms, is surprisingly common in individuals seeking medical or psychological care. This 10-hour course will help health professionals understand the nature and treatment of post-traumatic stress disorder (and its subclinical forms). We will explore the causes of PTSD, the symptoms and why they occur; the principles of healing, recovery, and growth; and the various effective and promising treatment options. Special sections on trauma-related psychiatric conditions, military considerations, and a rich range of resources are also included.
We hope that this course will help you better understand what your clients commonly experience. We also hope that this course will stimulate further learning in the critical emerging field of psychotraumatology.
Goals/Objectives
By participating in this Distance Learning Course the trainee will:
Advance clinical understanding of PTSD,
Advance PTSD education for clinicians, researchers, and clients through development and dissemination of information,
Define PTSD using the new DSM-5 criteria,
Identify risk factors associated with PTSD,
Identify the clinical signs of PTSD,
Promote improved assessment and treatment of PTSD,
Recognize comorbidities associated with PTSD,
Identify signs associated with individuals who may pose a danger to themselves or others.
Differentiate the psychotherapy treatment options available to treat PTSD.
Differentiate the pharmacological treatment options available to treat.
Glenn R. Schiraldi, Ph.D., LTC (USAR, Ret.), has served on the stress management faculties at the Pentagon, the International Critical Incident Stress Foundation, and the University of Maryland School of Public Health, where he received the Outstanding Teaching Award and other teaching/service awards. He is the author of various articles and books on human mental and physical health. His twelve books on stress-related topics have been translated into eleven foreign languages, and include: The Post-Traumatic Stress Disorder Sourcebook; The Complete Guide to Resilience; World War II Survivors: Lessons in Resilience; The Resilient Warrior Before, During, and After War; The Self-Esteem Workbook; Conquer Anxiety, Worry & Nervous Fatigue; The Anger Management Sourcebook; Ten Simple Solutions to Building Self-Esteem; Hope and Help for Depression; and Facts to Relax By. Glenn's writing has been recognized by various scholarly and popular sources, including the Washington Post, American Journal of Health Promotion, the Mind/Body Health Review, and the International Stress and Tension Control Society Newsletter. 

While serving at the Pentagon, he helped to design and implement a series of prototype courses in stress management for the Department of the Army—including hostility/anger management and communication skills. For the International Critical Incident Stress Foundation and Resilience Training International he designed and presents resilience training to optimize mental health and performance while preventing and promoting recovery from stress-related mental conditions such as post- traumatic stress disorder and suicide in high-risk groups (such as military, police, and firefighters, and their families). Serving at the University of Maryland since l980, he has pioneered a number of mind/body courses, which have taught coping skills to a wide range of adults to prevent stress-related mental and physical illness. His resilience courses there have been found to improve resilience, optimism, self-esteem, happiness, curiosity, depression, anxiety, and anger. He has trained clinicians and laypersons around the world on various aspects of trauma and resilience. Because of his expertise in practical skill building to prevent mental illness, he was invited to join the Board of Directors, Depression and Related Affective Disorders Association, founded as a Johns Hopkins University, Department of Psychiatry, cooperative. He also serves on the editorial board of the International Journal of Emergency Mental Health and Human Resilience and on the ABC News Post-Traumatic Stress Disorder working group.
Glenn is a graduate of the U.S. Military Academy, West Point, and a Vietnam-era veteran. His doctorate is from the University of Maryland. His research interests center on personality and stress, including resilience, post-traumatic stress, self-esteem, depression, anger/hostility, and anxiety.
Internet Format - Coursework that is available immediately via a downloadable PDF file (a popular online format that requires you to have the Adobe Reader program, or one similar, installed on your computer). Many websites already use this very user friendly file format, so chances are you already have a PDF reader installed on your computer. This format allows faster downloading, easier reading, and easier printing. All course materials will be included, as will the link to the post-test required for course completion. Access and downloading information will be immediately sent to the email address you provide at checkout. There is no additional charge for this format.
USB Flash Drive Format - Different computers, processors, ISP's, and software make it sometimes difficult or time-consuming to capture materials provided via the Internet. As a result, we've added the Flash Drive format to our list of options. With this format we will send you a Flash Drive by Priority Mail that can be used on any computer, laptop, tablet with a USB port. The drive will include a PDF copy of the course or courses ordered along with the test link needed to complete your course using our online test system. This option will include additional per course costs for materials/shipping/handling.
Hard Copy Format - Coursework that is delivered to you by Priority Mail in book form. All course materials will be included, as will the post-test required for course completion. For immediate results and faster certificate processing an email containing instructions on how to access your post-test online will be sent to the email address provided at checkout. Should you not want to submit the test yourself, a mail/fax form is also included that will allow you to mail or fax your test responses to us for processing. Hard copy courses will include additional per course costs for materials/shipping/handling.
---
Share this Product
---
More from this collection