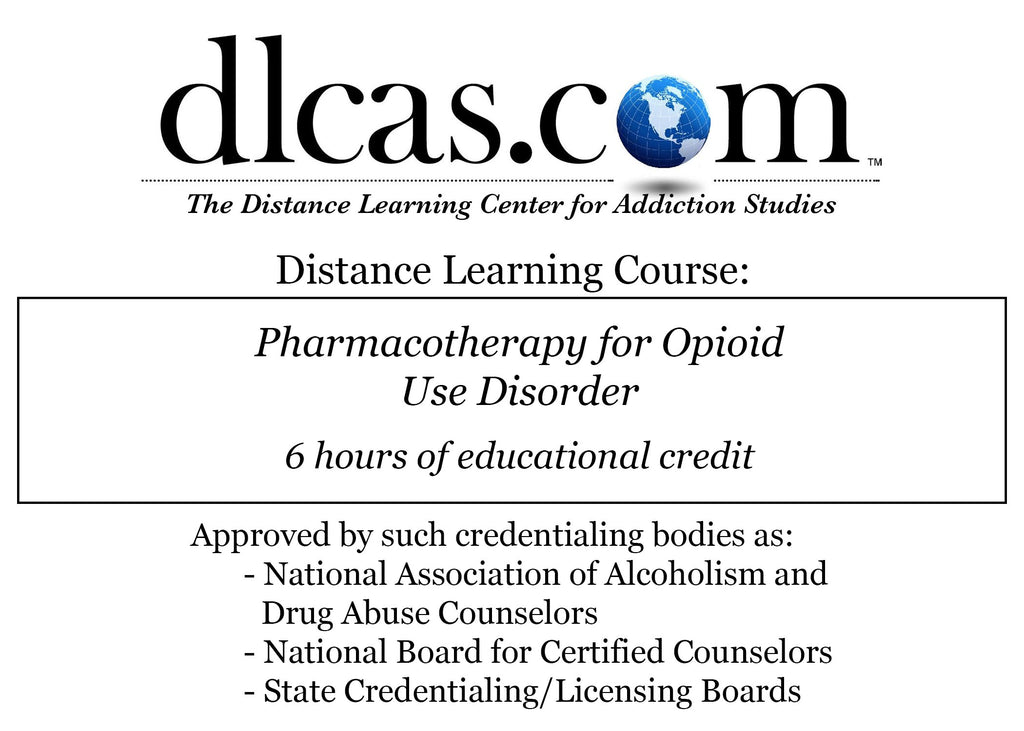 Pharmacotherapy for Opioid Use Disorder (6 hours)
---
Our nation faces a crisis of overdose deaths from opioids, including heroin, illicit fentanyl, and prescription opioids. These deaths represent a mere fraction of the total number of Americans harmed by opioid misuse and addiction. Many Americans now suffer daily from a chronic medical illness called "opioid addiction" or OUD. Healthcare professionals, treatment providers, and policymakers have a responsibility to expand access to evidence-based, effective care for people with OUD.
Based on the Substance Abuse and Mental Health Services Administration publication "Medications for Opioid Use Disorder," students will obtain 6-hours of continuing education credit. This course: provides guidance on the use of buprenorphine, methadone, and naltrexone by healthcare professionals; helps other treatment professionals understand the use and benefit of pharmacotherapy; offers information and tools for health¬care professionals who prescribe, administer, or dispense OUD medications or treat other illnesses in patients who take these medications.
Goals/Objectives
By participating in this Distance Learning Course, the trainee will:
Learn that OUD medications are safe and effective when used appropriately.
Identify how OUD medications can help patients reduce or stop illicit opioid use and improve their health and functioning.
Recognize why pharmacotherapy should be considered for all patients with OUD.
Investigate how patients with OUD should be informed of the risks and benefits of pharmacotherapy, treatment without medication, and no treatment.
Discover where and how patients can obtain treatment with OUD medication.
Understand how patients taking OUD medication benefit from counseling as part of treatment.
Establish how counselors play the same role for clients with OUD who take medication as for clients with any other SUD.
Explore how counselors help clients recover by addressing the challenges and consequences of addiction.
Learn that OUD medications are safe and effective when prescribed and taken appropriately.
Understand how medication is integral to recovery for many people with OUD.
Identify how medication usually produces better treatment outcomes than outpatient treatment without medication.
Learn how supportive counseling environments for clients who take OUD medication can promote treatment and help build recovery capital.
Kevin R. Scheel, MS, LADC, MAC, is a Masters prepared chemical dependency counselor and has been active in the human service field since 1974. He has served as the director of programs in the public sector as well as in private care facilities, both in the profit and not-for-profit arenas. He has been involved in the delivery of education services to the field since 1986 as an instructor at McLennan Community College in Waco, Texas, and as a private training consultant with Hazelden. Mr. Scheel is the author of "Alcohol: Chemistry & Culture," as well as a series of education videotapes on the various drugs of abuse, published and marketed by WRS Group, Inc. He has also created a preparation and review manual that is currently in use by a variety of colleges and universities in Texas, designed to aid students preparing for their Texas chemical dependency credential.
While in Texas Kevin served as the Texas Coordinator for the federally funded Project for Addiction Counselor Training (PACT) program. For this project Mr. Scheel designed a 270 hour curriculum for beginning counselors, delivering over 45,000 hours of classroom training to 415 minority students. As a result of his efforts, 268 of these students have gone on to obtain their credentials to practice chemical dependency counseling in Texas.
Kevin also served in the position as Coordinator for the Texas Addiction Training Center (currently the Texas Addition Technology Transfer Center), a federally funded project from the Center for Substance Abuse Treatment in Washington, D.C. The goal of this project has been to increase the level of addiction education to the various disciplines offering counseling services to drug and alcohol affected clients. In Texas this project worked with 8 major colleges and universities.
Kevin is one of the co-founders of the Distance Learning Center for Addiction Studies (www.dlcas.com). He continues to be active as a writer/author of materials for this training service.
Internet Format - Coursework that is available immediately via a downloadable PDF file (a popular online format that requires you to have the Adobe Reader program, or one similar, installed on your computer). Many websites already use this very user friendly file format, so chances are you already have a PDF reader installed on your computer. This format allows faster downloading, easier reading, and easier printing. All course materials will be included, as will the link to the post-test required for course completion. Access and downloading information will be immediately sent to the email address you provide at checkout. There is no additional charge for this format.
---
Share this Product
---
More from this collection