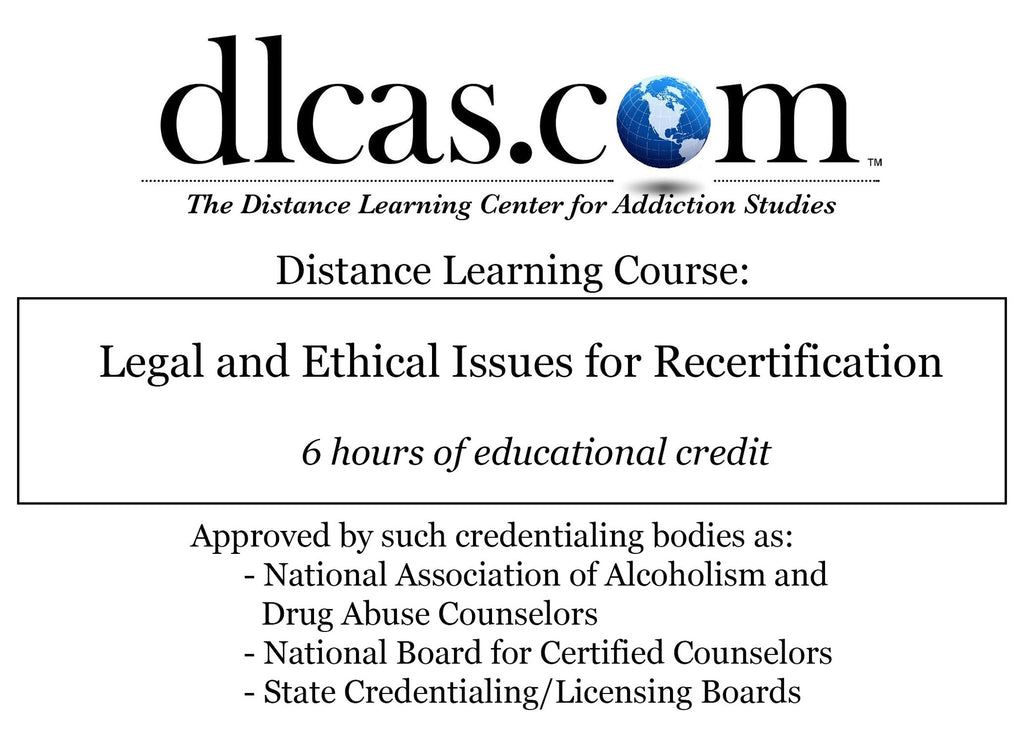 Legal and Ethical Issues for Recertification (6 hours)
---
This 6 hour course by David Powell will provide an update on legal and ethics issues, especially as they impact on clinical supervision. The course will also provide a macro-ethical perspective for the field, especially as it works in a managed care environment.
Goals/Objectives
By taking this Distance Learning Course the trainee will:
Describe the four key principles of medical ethics: autonomy, non-maleficence, beneficence, and justice and fairness.
Identify at least three errors that occur in clinical and supervisory competence.
Name at least three professional organizations involved in establishing standards for supervision and specify the standards for at least two of these organizations.
Define non-maleficence and state two criteria for substandard performance.
Define what a supervisor and counselor must know about informed consent and state at least three levels of informed consent.
State the nature of "dangerous liaisons," dual relationships in treatment and required action.
Provide at least two studies concerning "breaking the faith," dual relationships in counseling.
Define how to set limits in clinical work.
Define the legal criteria for negligence and malpractice.
Differentiate between direct vs. vicarious liability, confidentiality vs. privilege.
State the rules for protecting clients through client assignment and selection as well as the responsibilities of management.
State what a supervisor must do in supervisee selection, as well as client screening and assignment to counselors.
Define at least three key elements and content of a management and/or supervisory contract.
Discuss recent court rulings requiring agencies to have a crisis management agreement.
Define "adequate supervision"
Demonstrate skills in the use of the supervision tracking form and other documentation.
Dr. David J. Powell, Ph.D., LADC, CCS, LMFT, passed away on November 1, 2013. David was a graduate of Princeton Theological Seminary in counseling; The New School for Social Research in Psychology; Yale and Harvard University in Medical Ethics; and Hartford Seminary in Islamic Studies.
David's professional focus was the treatment of addictions. For 28 years he served as President/CEO of ETP, Inc., which provided employee assistance programs to 200 corporations and established the Clinical Preceptorship Program for the U.S. Navy and Marine Corps worldwide. There he treated his many employees as a family, so that under his leadership ETP became a nourishing environment for all who worked there. Upon retirement, he was the founding President of the International Center for Health Concerns, through which he trained on addiction, ethics, spirituality, and men's issues in 50 states and 87 countries. He was committed to elevating the quality of addiction treatment in the U.S. and to the far corners of the earth. Among other contributions, he was pivotal in starting Alcoholics Anonymous in China, facilitated addiction counselor certification in Asia, established a treatment center for street children in Turkey, and trained hundreds of thousands of clinical supervisors around the world. As an Assistant Clinical Professor at Yale University's School of Medicine, he had the long-term goal of establishing an endowed chair on Workforce Development in the Addiction Field. The recipient of numerous lifetime achievement awards, he is the author of 11 books, including Clinical Supervision in Alcohol and Drug Abuse Counseling, the standard textbook in the field.
As a training/consultant, David authored several courses for DLCAS.com.  His passion and commitment to training future counselors was commendable.  He was a prolific writer and created works that will remain a part of our site, with many of his peers contributing to updates and refreshing the knowledge-base he created.
Internet Format - Coursework that is available immediately via a downloadable PDF file (a popular online format that requires you to have the Adobe Reader program, or one similar, installed on your computer). Many websites already use this very user friendly file format, so chances are you already have a PDF reader installed on your computer. This format allows faster downloading, easier reading, and easier printing. All course materials will be included, as will the link to the post-test required for course completion. Access and downloading information will be immediately sent to the email address you provide at checkout. There is no additional charge for this format.
USB Flash Drive Format - Different computers, processors, ISP's, and software make it sometimes difficult or time-consuming to capture materials provided via the Internet. As a result, we've added the Flash Drive format to our list of options. With this format we will send you a Flash Drive by Priority Mail that can be used on any computer, laptop, tablet with a USB port. The drive will include a PDF copy of the course or courses ordered along with the test link needed to complete your course using our online test system. This option will include additional per course costs for materials/shipping/handling.
Hard Copy Format - Coursework that is delivered to you by Priority Mail in book form. All course materials will be included, as will the post-test required for course completion. For immediate results and faster certificate processing an email containing instructions on how to access your post-test online will be sent to the email address provided at checkout. Should you not want to submit the test yourself, a mail/fax form is also included that will allow you to mail or fax your test responses to us for processing. Hard copy courses will include additional per course costs for materials/shipping/handling.
---
Share this Product
---
More from this collection