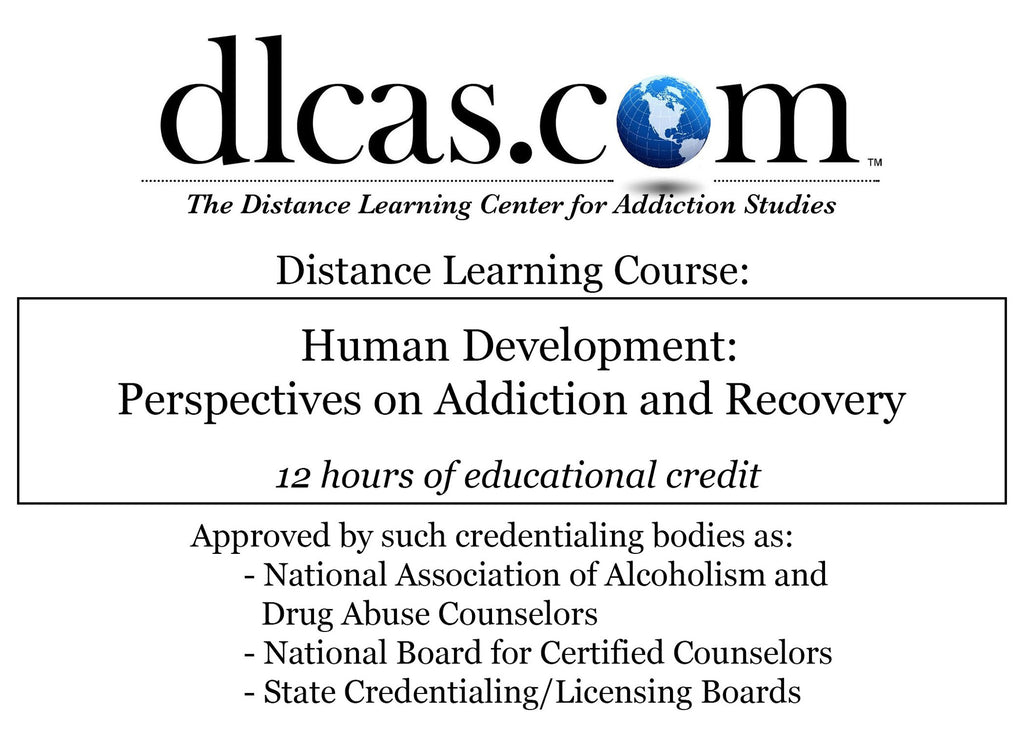 Human Development: Perspectives on Addiction and Recovery (12 hours)
---
This 12 hour course by Jacqueline Wallen provides practical strategies based on theories of human development for working with clients recovering from alcoholism and drug addiction. An understanding of these theories will help therapists and addictions counselors recognize stages of recovery and better select appropriate interventions for every phase of treatment of addicted clients.
Some of the topics related to human development and addiction covered in this course include developmental deficits and developmental arrest in recovering clients, delayed reactions to sexual abuse and other childhood trauma, stages in recovery from alcoholism or drug addiction, developmental issues in the professional's own life, and multi-problem families with a multigenerational history of substance abuse. Applying these developmental strategies to work with addicted individuals will significantly improve communication and rapport between helping professionals and recovering addicts and lead to more success in alcohol and drug addiction therapy.
Goals/Objectives
By participating in this Distance Learning Course the trainee will:
Examine how a developmental perspective is particularly appropriate to the treatment of alcohol and substance abusers.
Identify the patterns involved in the development of addiction related problems.
Review information on how disruptions in clients' childhood or adolescent development, stemming from their own or a parent's drug abuse can influence their present recovery process.
Describe the developmental course of addiction.
Identify tools designed to interrupt addictive patterns.
Recognize stages in the developmental process of recovery.
Learn to select appropriate interventions.
Jacqueline Wallen, Ph.D, MSW, LCSW-C, is a licensed clinical social worker who has been in private practice in Takoma Park, Maryland for more than twenty years. Her treatment approaches are based on a holistic and developmental perspective that emphasizes the power of natural healing processes within the individual and the curative power of authentic relationships.
Jacqueline is an Associate Professor in the Family Science Department at the University of Maryland. She is the author of 25 articles and book chapters, with publications in such journals as Journal of Studies on Alcohol, Journal of Substance Abuse Treatment, Archives of General Psychiatry, Community and Hospital Psychiatry, and Medical Care. Her most current work is entitled Balancing Work and Family: The Role of the Workplace (2003).
Internet Format - Coursework that is available immediately via a downloadable PDF file (a popular online format that requires you to have the Adobe Reader program, or one similar, installed on your computer). Many websites already use this very user friendly file format, so chances are you already have a PDF reader installed on your computer. This format allows faster downloading, easier reading, and easier printing. All course materials will be included, as will the link to the post-test required for course completion. Access and downloading information will be immediately sent to the email address you provide at checkout. There is no additional charge for this format.
USB Flash Drive Format - Different computers, processors, ISP's, and software make it sometimes difficult or time-consuming to capture materials provided via the Internet. As a result, we've added the Flash Drive format to our list of options. With this format we will send you a Flash Drive by Priority Mail that can be used on any computer, laptop, tablet with a USB port. The drive will include a PDF copy of the course or courses ordered along with the test link needed to complete your course using our online test system. This option will include additional per course costs for materials/shipping/handling.
Hard Copy Format - Coursework that is delivered to you by Priority Mail in book form. All course materials will be included, as will the post-test required for course completion. For immediate results and faster certificate processing an email containing instructions on how to access your post-test online will be sent to the email address provided at checkout. Should you not want to submit the test yourself, a mail/fax form is also included that will allow you to mail or fax your test responses to us for processing. Hard copy courses will include additional per course costs for materials/shipping/handling.
---
Share this Product
---
More from this collection