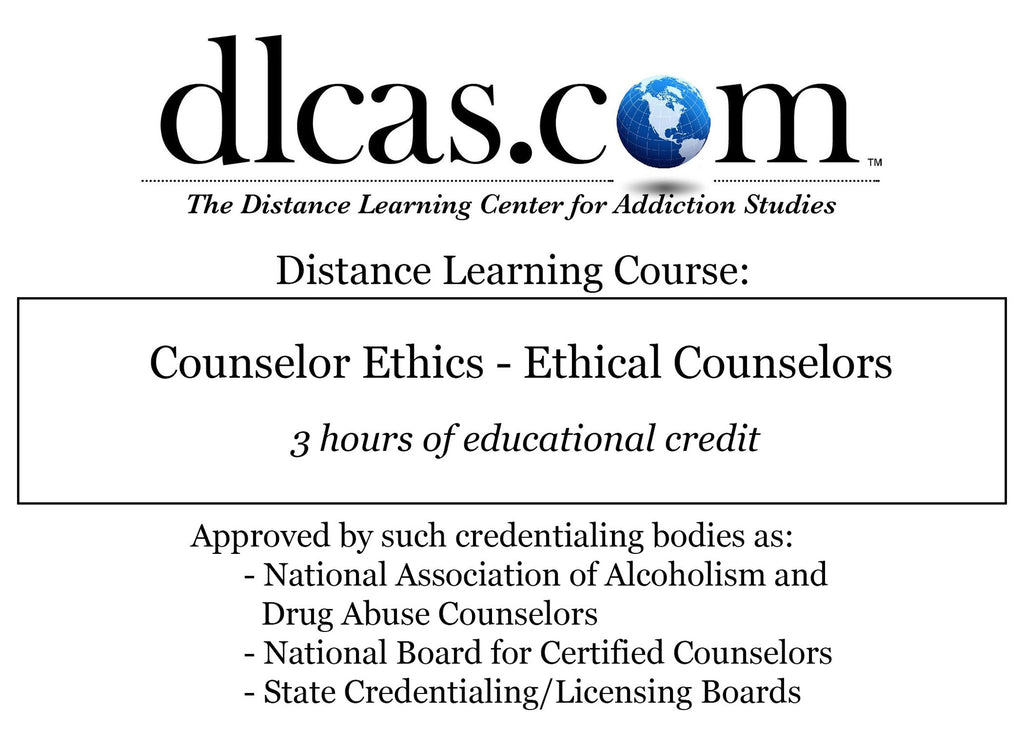 Counselor Ethics - Ethical Counselors (3 hours)
---
This 3 hour course by Charlotte Chapman reviews the ethical dilemmas faced by today's counselors and treatment professionals.  This course will take you beyond the basic understanding of the ethical principles that guide the chemical dependency field. It will focus not on the code but rather on a different approach to the study of Ethics. You will be asked to examine how you developed your own personal code of ethics and how you apply that to your practice and to your professional Code of Ethics. Information will also be given on the guidelines for ethical practice as well as methods for ethical decision making and legal issues and concerns. An exploration of some of the areas of ethical dilemmas will be accomplished through case reviews.
Goals/Objectives
By participating in this Distance Learning Course, the trainee will:
Learn the necessary definitions when dealing with ethics
Briefly review the NAADAC Code of Ethics that govern the chemical dependency field
Examine the issues of conscience and conscience formation that guide ethical decision-making
Identify the role of values and morals as they relate to ethical practice
Examine areas of ethical dilemma that are impacting the field today
Identify guidelines for ethical practice
Review a model for ethical decision making
Create a forum to discuss practical application and special issues related to counselor ethics through the use of internet technologies.
Charlotte Chapman has been in the addictions field for twenty years. She has practiced as a counselor, supervisor and program director. Charlotte has been teaching ethics for the past ten years. She has published articles and courses on ethics for addiction professionals and has served on state and national certification boards and ethics committees.
Charlotte is a licensed professional counselor, a licensed substance abuse treatment provider, a certified addictions counselor and a certified clinical supervisor in Virginia. She is currently the director of training for the Mid-Atlantic Addiction Technology Transfer Center, Richmond, VA.
Internet Format - Coursework that is available immediately via a downloadable PDF file (a popular online format that requires you to have the Adobe Reader program, or one similar, installed on your computer). Many websites already use this very user friendly file format, so chances are you already have a PDF reader installed on your computer. This format allows faster downloading, easier reading, and easier printing. All course materials will be included, as will the link to the post-test required for course completion. Access and downloading information will be immediately sent to the email address you provide at checkout. There is no additional charge for this format.
USB Flash Drive Format - Different computers, processors, ISP's, and software make it sometimes difficult or time-consuming to capture materials provided via the Internet. As a result, we've added the Flash Drive format to our list of options. With this format we will send you a Flash Drive by Priority Mail that can be used on any computer, laptop, tablet with a USB port. The drive will include a PDF copy of the course or courses ordered along with the test link needed to complete your course using our online test system. This option will include additional per course costs for materials/shipping/handling.
Hard Copy Format - Coursework that is delivered to you by Priority Mail in book form. All course materials will be included, as will the post-test required for course completion. For immediate results and faster certificate processing an email containing instructions on how to access your post-test online will be sent to the email address provided at checkout. Should you not want to submit the test yourself, a mail/fax form is also included that will allow you to mail or fax your test responses to us for processing. Hard copy courses will include additional per course costs for materials/shipping/handling.
---
Share this Product
---
More from this collection