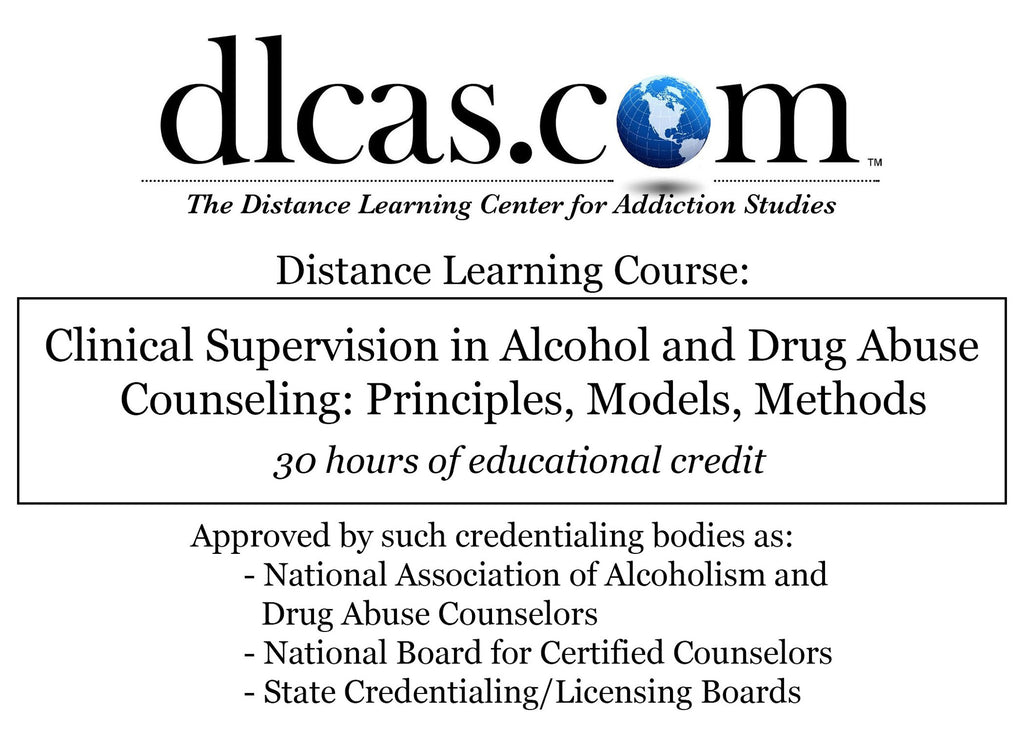 Clinical Supervision in Alcohol and Drug Abuse Counseling: Principles, Models, Methods (30 hours)
---
This 30 hour course will provide education and insights into the issue of clinical supervision.  It is intended to meet the basic requirements for the Certified Clinical Supervisor credential offered by IC&RC Member Boards.  This is an original course developed from the work and teachings of Dr. David Powell, and is based on his book Clinical Supervision in Alcohol and Drug Abuse Counseling, which serves as a supplemental text for the course.
---------------------------------------------------------------------------------
***NEW JERSEY STUDENTS ONLY: PLEASE PAUSE AND NOTE BEFORE CONTINUING; UNIQUE RULE/RESTRICTION FOR YOU TO BE AWARE OF***
Professionals seeking credentialing in New Jersey as a Certified Clinical Supervisor (CCS) must obtain their required training in a live event, either in person or in a live, virtual experience. Distance learning of any type is NOT approved for this requirement, and must be completed with a provider approved by the Addiction Professionals Certification Board, Inc. (APCB, Inc.).
---------------------------------------------------------------------------------
Regardless of the format you choose for this course, you will need to purchase a copy of David Powell's book Clinical Supervision in Alcohol and Drug Abuse Counseling (if you don't already own a copy).  The course manual from DLCAS plus Powell's book are required reading for this course - the test is based on both materials.   Be advised - there are two versions of the book available - the original 1993 publication and a newly revised 2004 edition.  Either book can be used with this course.
The book can be purchased from most major book stores, or can be ordered online at their respective sites.  We recommend Amazon.com as a resource that we know stocks the book for immediate shipment.  To leave this site and purchase your copy of Powell's book now, use this link:
Order Powell's book at Amazon.com
NOTE:  This newly revised course includes information from CSAT's TIP #52 - Clinical Supervision and Professional Development of the Substance Abuse Counselor, for which David Powell was chair and lead author.  The TIP (publication # SMA 09-4435) is free and can be obtained by contacting SAMHSA's National Clearinghouse for Alcohol and Drug Information, PO Box 2344, Rockville, MD 20847-2345, or by phone at 800-729-6686 (toll free).  A PDF version of the course is also available from the following website -
CLICK HERE to download this manual.
Goals/Objectives
Note:  these objectives follow the International Certification and Reciprocity Consortium role delineation study's performance domains for their clinical supervision credential and provide the required hours of training to meet :
At the completion of this course you will be able to:
Counselor Development
Define the four foci of clinical supervision according to the Powell definition.
Define five characteristics of the three stages of counselor & supervisor development.
Describe at characteristics of at least three of the Descriptive Dimensions.
Define at least three contextual factors involved in supervision.
Define five problems in supervision and procedures to overcome these obstacles.
Define isomorphism and its relationship to the clinical supervisory process.
Define transference and counter-transference and its relevance to clinical supervision.
Professional and Ethical Standards
Define two clinical supervision credentialing organizations and their requirements.
Describe at least four of the ICRC requirements to be a clinical supervisor.
Assess their own preparedness to be certified by AAMFT and/or ICRC.
Describe two legal and ethical issues in clinical supervision.
Define vicarious liability in supervision.
Define three qualities of their own foundation of supervision.
State at least four authors who have written extensively in the area of supervision.
Program Development and Quality Assurance
Identify four elements of an effective model for clinical supervision.
Examine guidelines for implementing and phas­ing a clinical supervision system.
List steps to follow in phasing in clinical supervision systems.
Discover the importance of documentation as it relates to program development and quality assurance.
Explore goals of evaluation include, but are not limited to

reviewing job per­formance
assessing progress toward professional development goals
eliciting future learning goals
assessing fitness for duty and scope of competence
providing feedback to staff on adherence to agency policies, procedures, and values
Performance Evaluation
Provide three definitions of supervision: supervision as counseling (a therapeutic process), supervision as education, and supervision as consultation.

Provide their own definition of clinical supervision

Identify evaluation skills in assessing counselor competency

Demonstrate five intervention skills
Demonstrate skills in giving feedback to counselors
Demonstrate knowledge of three indirect and three direct methods of observation
Differentiate between case management and clinical supervision
Administration
Describe their own agency's performance appraisal system
State federal, state and local regulations regarding confidentiality, patient rights
Define at least five models of clinical supervision
Define at least three components of the Powell Blended Model of Supervision
Begin to define their own model of supervision
Treatment Knowledge
Please note: Because of the broad nature of information covered by the domain Treatment Knowledge, this course DOES NOT provide specific training in this area.  It is believed that counselors who are planning to use this course will already have significant hours of training that encompass this information and as such, does not need to be provided here.  However, if you feel the need to have course information on this area, we recommend that you take the course "Basic Pharmacology" in addition to this training. 
Dr. David J. Powell, Ph.D., LADC, CCS, LMFT, passed away on November 1, 2013. David was a graduate of Princeton Theological Seminary in counseling; The New School for Social Research in Psychology; Yale and Harvard University in Medical Ethics; and Hartford Seminary in Islamic Studies.
David's professional focus was the treatment of addictions. For 28 years he served as President/CEO of ETP, Inc., which provided employee assistance programs to 200 corporations and established the Clinical Preceptorship Program for the U.S. Navy and Marine Corps worldwide. There he treated his many employees as a family, so that under his leadership ETP became a nourishing environment for all who worked there. Upon retirement, he was the founding President of the International Center for Health Concerns, through which he trained on addiction, ethics, spirituality, and men's issues in 50 states and 87 countries. He was committed to elevating the quality of addiction treatment in the U.S. and to the far corners of the earth. Among other contributions, he was pivotal in starting Alcoholics Anonymous in China, facilitated addiction counselor certification in Asia, established a treatment center for street children in Turkey, and trained hundreds of thousands of clinical supervisors around the world. As an Assistant Clinical Professor at Yale University's School of Medicine, he had the long-term goal of establishing an endowed chair on Workforce Development in the Addiction Field. The recipient of numerous lifetime achievement awards, he is the author of 11 books, including Clinical Supervision in Alcohol and Drug Abuse Counseling, the standard textbook in the field.
As a training/consultant, David authored several courses for DLCAS.com.  His passion and commitment to training future counselors was commendable.  He was a prolific writer and created works that will remain a part of our site, with many of his peers contributing to updates and refreshing the knowledge-base he created.
Internet Format - Coursework that is available immediately via a downloadable PDF file (a popular online format that requires you to have the Adobe Reader program, or one similar, installed on your computer). Many websites already use this very user friendly file format, so chances are you already have a PDF reader installed on your computer. This format allows faster downloading, easier reading, and easier printing. All course materials will be included, as will the link to the post-test required for course completion. Access and downloading information will be immediately sent to the email address you provide at checkout. There is no additional charge for this format.
USB Flash Drive Format - Different computers, processors, ISP's, and software make it sometimes difficult or time-consuming to capture materials provided via the Internet. As a result, we've added the Flash Drive format to our list of options. With this format we will send you a Flash Drive by Priority Mail that can be used on any computer, laptop, tablet with a USB port. The drive will include a PDF copy of the course or courses ordered along with the test link needed to complete your course using our online test system. This option will include additional per course costs for materials/shipping/handling.
Hard Copy Format - Coursework that is delivered to you by Priority Mail in book form. All course materials will be included, as will the post-test required for course completion. For immediate results and faster certificate processing an email containing instructions on how to access your post-test online will be sent to the email address provided at checkout. Should you not want to submit the test yourself, a mail/fax form is also included that will allow you to mail or fax your test responses to us for processing. Hard copy courses will include additional per course costs for materials/shipping/handling.
---
Share this Product
---
More from this collection