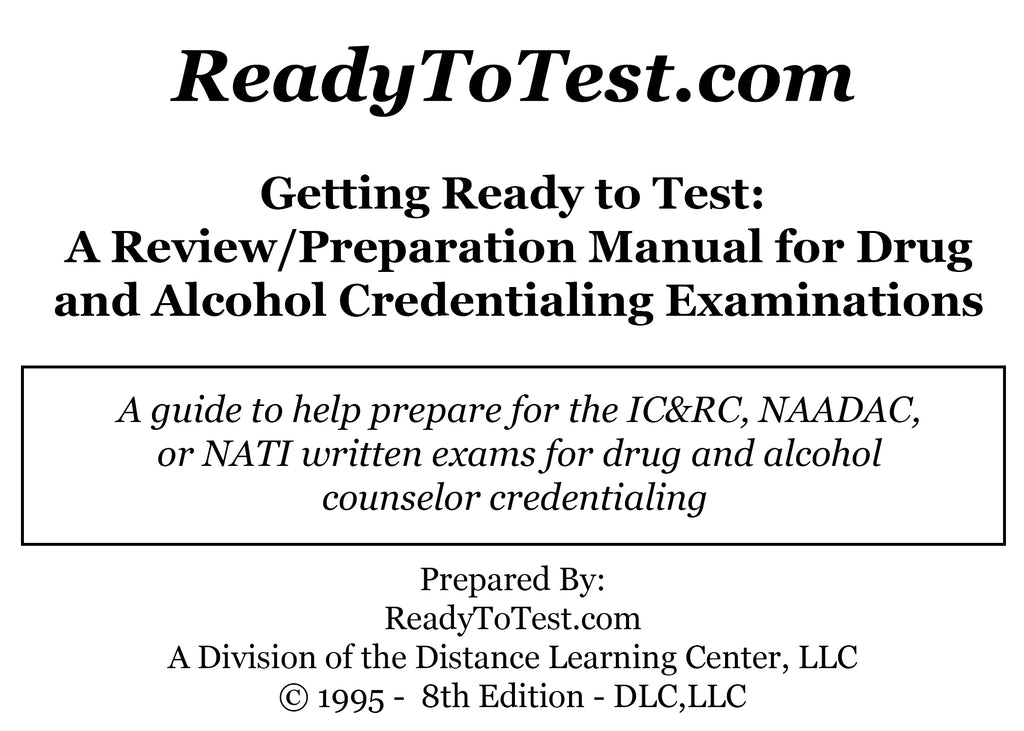 Getting Ready To Test (M404): A Review and Preparation Manual for Drug and Alcohol Credentialing Exams (9th Edition)
---
AVAILABLE IN HARD COPY FORMAT ONLY
CURRENT REVISION - 9th Edition, February 2023: Revised/Updated for the Newest IC&RC exam format.  These updates reflect test changes made by IC&RC that are effective beginning in March 2023.

This unique self-guided manual provides our most comprehensive set of materials designed to help refresh and enhance your knowledge of many of the major, need-to-know areas of information required for drug and alcohol written examinations.  ​
This manual is our most comprehensive guide that will help you prepare for either the IC&RC or NAADAC written examination.  It includes 150 sample questions – designed to make you feel more comfortable with the actual exam as well as to help you focus your study and preparation time to the areas of information you need assistance with.  While the manual cannot guarantee success in passing your exams, it can provide needed resources to assist you in your preparation. ​
The manual includes four unique sections of materials: Section 1: Basic Addiction Information; Section 2: Core Functions of Counseling; Section 3: Specialty Information; Section 4: The Testing Process.  
We have updated information in this revision to reflect recent federal studies as well as updates to information on Motivational Interviewing.  This guide also contains a chapter on DSM-5 and Substance Use Disorders information that will be included on the credentialing exam.
---
Share this Product
---
More from this collection