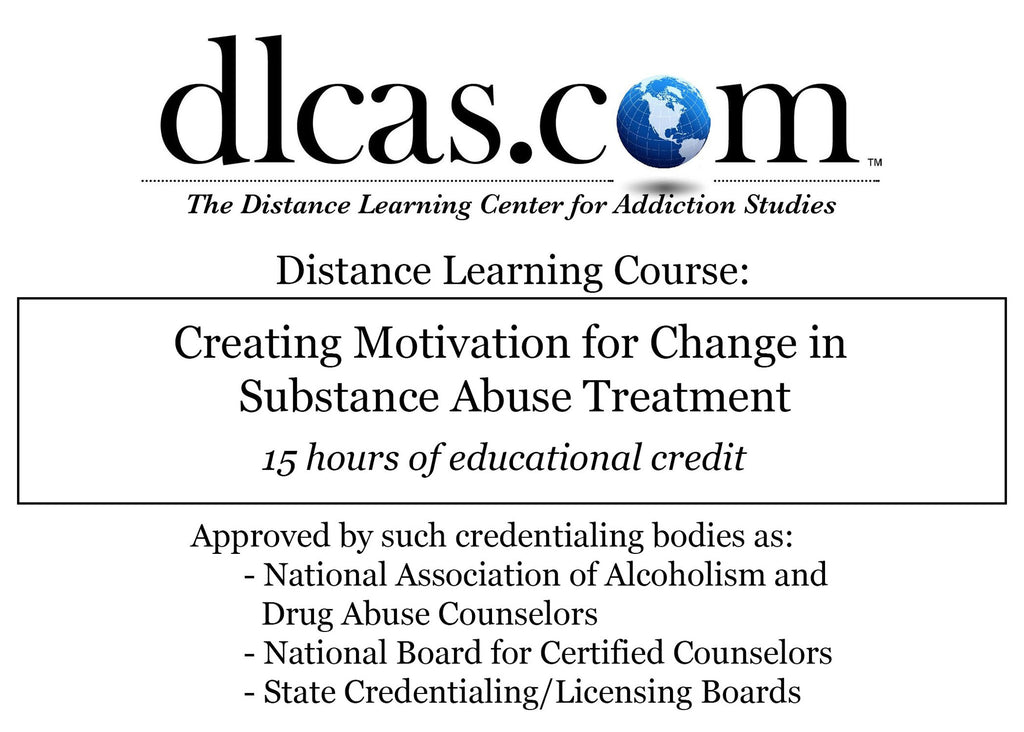 Creating Motivation for Change in Substance Abuse Treatment (15 hours)
---
This 15 hour course by Richard L. Brown will help link research to practice by providing clear applications of motivational approaches in clinical practice and treatment programs. This course seeks to shift the conception of client motivation for change toward a view that empowers the treatment provider to elicit motivation. These approaches may be especially beneficial to particular populations (e.g., court-mandated offenders) with a low motivation for change.
Goals/Objectives
By participating in this Distance Learning Course the trainee will:
Understand how the concepts of motivation and change have evolved in recent years and describes the "stages-of-change" model, developed by Prochaska and DiClemente.
Identify interventions that can enhance clients' motivation, highlight their effective elements, and link them to the stages-of-change model.
Recognize aspects of motivational interviewing, developed by Miller and Rollnick, to interact with substance-using clients, helping them resolve issues related to their ambivalence.
Address the five stages of change and provide guidelines for clinicians to tailor their treatment to clients' stages of readiness for change.
Identify various tools and instruments used to measure components of change.
Identify methods for integrating motivational approaches into existing treatment programs.
Recognize directions for future research.
Richard L. Brown, MD, MPH, is a tenured Associate Professor in the Department of Family Medicine at the University of Wisconsin Medical School. His research, teaching, and publications reflect his long-standing interest in alcohol and drug abuse. He has served as a consultant to several managed care organizations providing assistance in the design of alcohol screening and intervention programs for managed health care systems. He is a past president of the Association for Medical Education and Research in Substance Abuse (see www.amersa.org). He is now directing the HRSA-AMERSA Interdisciplinary Project to Improve Health Professional Education on Substance Abuse.
Dr. Brown also served on the Editorial Advisory Board for Treatment Improvement Protocol (TIP) Series 35, Enhancing Motivation for Change in Substance Abuse Treatment.
Internet Format - Coursework that is available immediately via a downloadable PDF file (a popular online format that requires you to have the Adobe Reader program, or one similar, installed on your computer). Many websites already use this very user friendly file format, so chances are you already have a PDF reader installed on your computer. This format allows faster downloading, easier reading, and easier printing. All course materials will be included, as will the link to the post-test required for course completion. Access and downloading information will be immediately sent to the email address you provide at checkout. There is no additional charge for this format.
USB Flash Drive Format - Different computers, processors, ISP's, and software make it sometimes difficult or time-consuming to capture materials provided via the Internet. As a result, we've added the Flash Drive format to our list of options. With this format we will send you a Flash Drive by Priority Mail that can be used on any computer, laptop, tablet with a USB port. The drive will include a PDF copy of the course or courses ordered along with the test link needed to complete your course using our online test system. This option will include additional per course costs for materials/shipping/handling.
Hard Copy Format - Coursework that is delivered to you by Priority Mail in book form. All course materials will be included, as will the post-test required for course completion. For immediate results and faster certificate processing an email containing instructions on how to access your post-test online will be sent to the email address provided at checkout. Should you not want to submit the test yourself, a mail/fax form is also included that will allow you to mail or fax your test responses to us for processing. Hard copy courses will include additional per course costs for materials/shipping/handling.
---
Share this Product
---
More from this collection