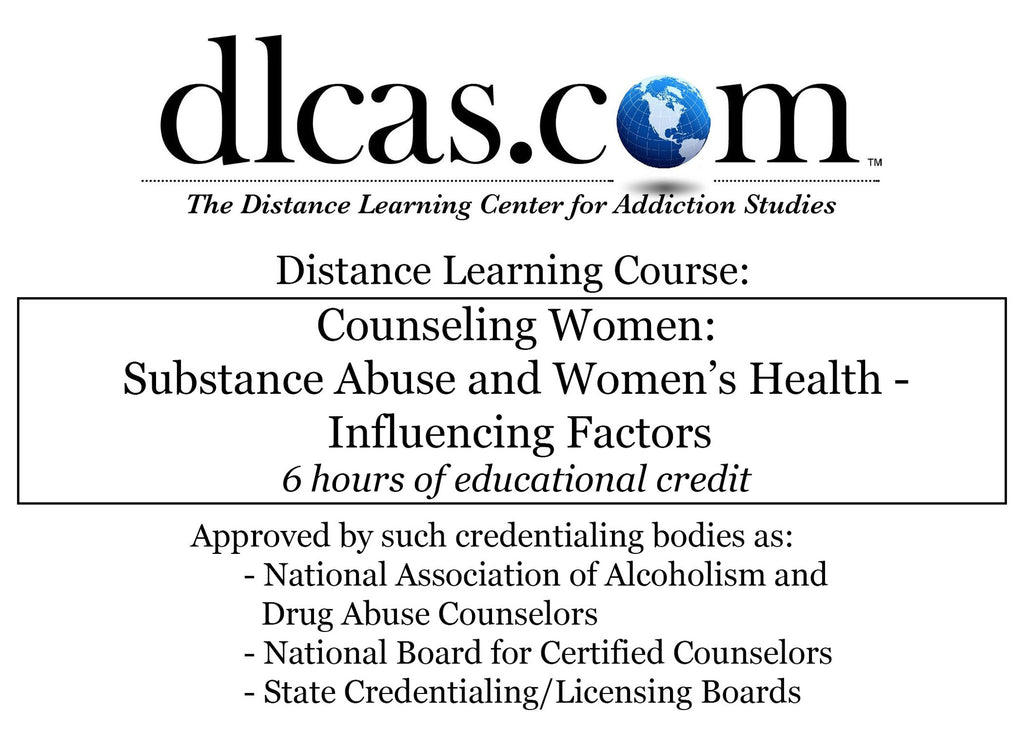 Counseling Women: Substance Abuse and Women's Health: Influencing Factors (6 hours)
---
This 6 hour course by Susan Brownlow is part of our Counseling Women: The Series coursework.  
The courses in the Series are as follow: 
Understanding the Complexities of Female Substance Abuse Recovery (6 hours)
Substance Abuse and Women's Health – Influencing Factors (6 hours)
Women, Trauma, and PTSD (6 hours)
System Coordination and Substance Abuse (4 hours)
Parenting and Substance Abuse (6 hours)
Women with substance use disorders have unique bio/psycho/social needs that must be addressed by treatment professionals if treatment is to be successful. This Series (representing 28 hours of specialized training) examines the spectrum of women's substance abuse treatment needs, approaches, and experience. Courses will highlight strategies and best practices for treatment counselors working with female clients and explore evidence-based research and clinical issues that affect treatment for women. The primary goals of this Series is to help substance abuse treatment professionals provide effective treatment for women and to assist clinicians in equipping their female clients with the tools needed for long-term recovery.
Goals/Objectives
By participating in this Distance Learning Course, the trainee will:
Identify risk factors of use during pregnancy.
Identify and understand socio-economic and socio-cultural variables of risk.
Be able to develop a broad overview of bio-psychosocial issues that affect pregnant women
Gain understanding of medication interactions
Differentiate between substance abuse screening and substance abuse assessment in pregnant women.
Identify screening tools for pregnant women
Susan Brownlow, M.Ed, completed her graduate and undergraduate work at the University of Southern Mississippi, obtaining a Master's in Education, with an emphasis on community counseling. She has worked in the substance abuse field for more than 20 years, and is a supervising LPC and certified substance abuse counselor and SAP provider. She has worked with child welfare services providing substance abuse assessments and counseling for their clients. She currently works at a non-profit facility providing individual and family counseling, marital and couples counseling, and with clients who have mood disorders, PTSD, anxiety disorders.
In addition, she has developed the curriculum and program for women who have been arrested for domestic violence and is facilitating five groups for this population. She has developed and implemented a survivor of suicide support group and facilitated crisis debriefing groups in her area. She provides onsite supervision for students in master level programs completing their practicum and internship hours. In addition to this Series on Women's issues, she is the author/instructor for the DLCAS course entitled "Trauma and Substance Abuse."
Internet Format - Coursework that is available immediately via a downloadable PDF file (a popular online format that requires you to have the Adobe Reader program, or one similar, installed on your computer). Many websites already use this very user friendly file format, so chances are you already have a PDF reader installed on your computer. This format allows faster downloading, easier reading, and easier printing. All course materials will be included, as will the link to the post-test required for course completion. Access and downloading information will be immediately sent to the email address you provide at checkout. There is no additional charge for this format.
USB Flash Drive Format - Different computers, processors, ISP's, and software make it sometimes difficult or time-consuming to capture materials provided via the Internet. As a result, we've added the Flash Drive format to our list of options. With this format we will send you a Flash Drive by Priority Mail that can be used on any computer, laptop, tablet with a USB port. The drive will include a PDF copy of the course or courses ordered along with the test link needed to complete your course using our online test system. This option will include additional per course costs for materials/shipping/handling.
Hard Copy Format - Coursework that is delivered to you by Priority Mail in book form. All course materials will be included, as will the post-test required for course completion. For immediate results and faster certificate processing an email containing instructions on how to access your post-test online will be sent to the email address provided at checkout. Should you not want to submit the test yourself, a mail/fax form is also included that will allow you to mail or fax your test responses to us for processing. Hard copy courses will include additional per course costs for materials/shipping/handling.
---
Share this Product
---
More from this collection