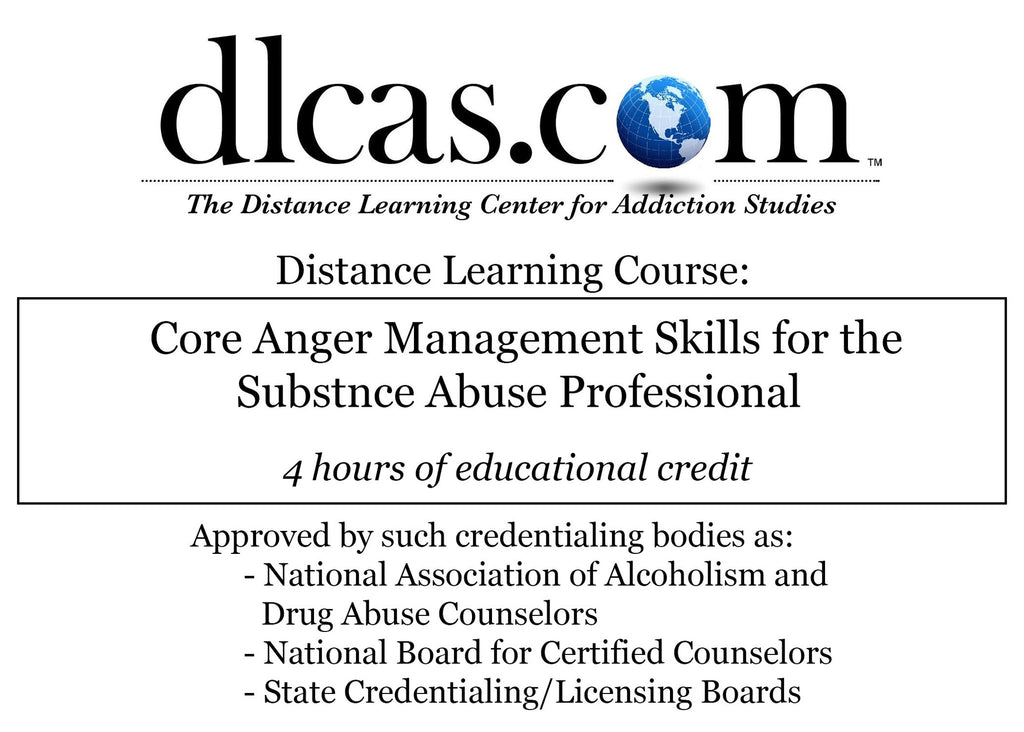 Core Anger Management Skills for the Substance Abuse Professional (4 hours)
---
This 4 hour course by Tony Fiore is designed to help addiction counselors and health care professionals assist clients in recovery learn to manage anger and related destructive negative emotions.
Goals/Objectives
By participating in this Distance Learning Course, the trainee will:
Learn core anger management skills to assist them teach clients in recovery how to more effectively manage strong negative emotions.
Be able to articulate how thinking impacts emotions.
Be able to better identify self defeating self-talk that is fundamental to anger management.
Be able to identify common assumptions and beliefs which foster unnecessary negative emotions.
Be able to identify and teach basic anger management skills to recovering clients and their families.
Be able to list additional helpful resources for future anger management training.
Tony Fiore, Ph.D., is a California licensed psychologist, marriage therapist, and personal coach with clinical practices in Long Beach and Orange, California, specializing in anger management and marital therapy.
Through his company, The Anger Coach, Dr. Fiore provides weekly and Fast-Track Anger Management Classes to local people in Southern California, and often also speaks to groups, organizations and treatment program staffs on stress and anger management. He is co-author (with Ari Novick, Ph.D.) of two books: Anger Management for the Twenty-First Century and A Companion Guide for Anger Management Professionals, and a leading professional certification program for substance abuse professionals and others titled Professional Anger Management Certification Training. In addition, he has authored two ebooks " Anger Management Student Manual: Practical Life skills for all ages." and "Anger Bee Companion Guide for adults working with children to manage anger."
He is also the author of an online anger management program which is popular on the internet, he has written scores of articles and special reports on anger management which have been published in numerous mainstream as well as online resources. Tony maintains his own blog titled " The Anger Coach Blog" which highlights important anger management issues in our society as well as solutions based on the eight-tools intervention model developed by himself and Dr. Novick.
After graduating from Purdue University in 1972, he has been active in both community mental health, the private practice of psychology, substance abuse program consulting, and teaching, coaching and writing for over 35 years. He has completed numerous post-graduate training programs including Human Sexuality at UCLA, Personal Coaching at the Life Coaching Institute. To add to his experience and training in conflict resolution, he has also received advanced training in Marital Therapy at the Gottman Institute in Seattle, Washington and he is a certified group leader in the Keeping Love Alive Program by Michele Weiner-Davis.
Website address: http://www.angercoach.com
Internet Format - Coursework that is available immediately via a downloadable PDF file (a popular online format that requires you to have the Adobe Reader program, or one similar, installed on your computer). Many websites already use this very user friendly file format, so chances are you already have a PDF reader installed on your computer. This format allows faster downloading, easier reading, and easier printing. All course materials will be included, as will the link to the post-test required for course completion. Access and downloading information will be immediately sent to the email address you provide at checkout. There is no additional charge for this format.
USB Flash Drive Format - Different computers, processors, ISP's, and software make it sometimes difficult or time-consuming to capture materials provided via the Internet. As a result, we've added the Flash Drive format to our list of options. With this format we will send you a Flash Drive by Priority Mail that can be used on any computer, laptop, tablet with a USB port. The drive will include a PDF copy of the course or courses ordered along with the test link needed to complete your course using our online test system. This option will include additional per course costs for materials/shipping/handling.
Hard Copy Format - Coursework that is delivered to you by Priority Mail in book form. All course materials will be included, as will the post-test required for course completion. For immediate results and faster certificate processing an email containing instructions on how to access your post-test online will be sent to the email address provided at checkout. Should you not want to submit the test yourself, a mail/fax form is also included that will allow you to mail or fax your test responses to us for processing. Hard copy courses will include additional per course costs for materials/shipping/handling.
---
Share this Product
---
More from this collection