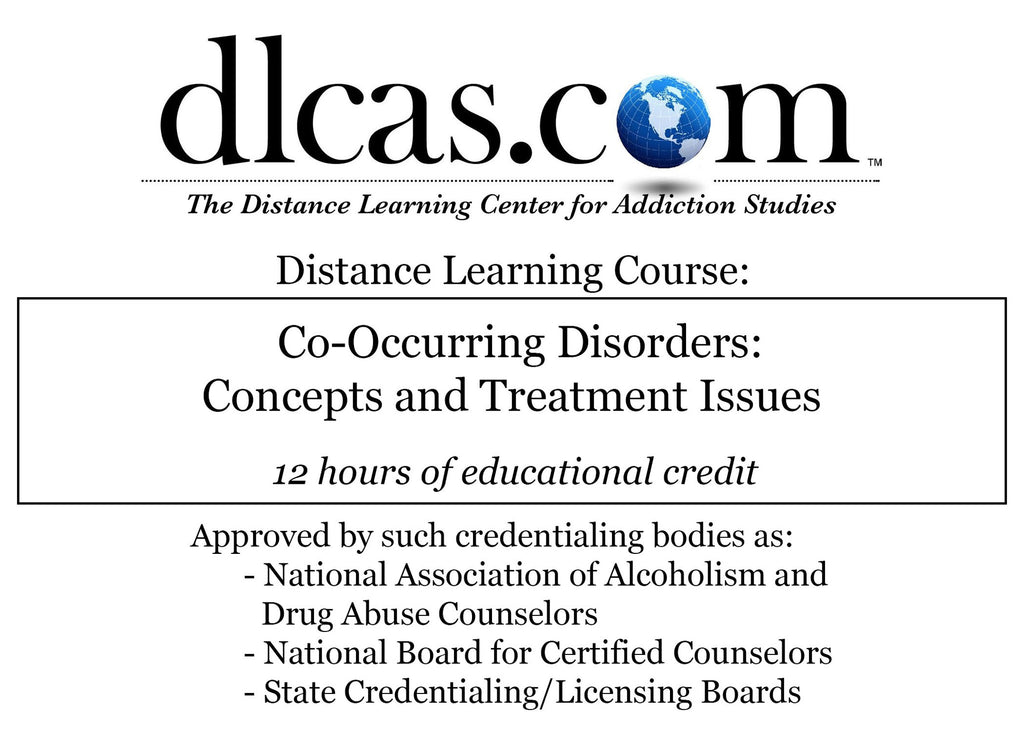 Co-Occurring Disorders: Concepts and Treatment Issues (12 hours)
---
**This course was updated as of April 2017.**
This 12 hour course by Dennis C. Daley will provide the trainee with information and issues related to the treatment needs of patients who have a psychiatric disorder in combination with an alcohol and other drug (AOD) use disorder. This Distance Learning Course contains specific information that focuses on basic concepts, terms, and definitions related to co-occurring problems, as well as information on general treatment needs and approaches used in treating this population. It is primarily intended for addiction treatment staff. However, it contains information and treatment recommendations that can be used by healthcare providers in a variety of treatment settings. For example, it will be useful to people who work in primary care clinics, hospitals, and various mental health settings.
Goals/Objectives
By participating in this Distance Learning Course, the trainee will:
Define terminology and classifications related to substance use, clients, treatment, programs, and systems for clients with COD.
Define key terms and classification systems currently in use in the treatment field.
Explain the guiding principles in treatment of clients with COD.
Identify key challenges to establishing services for clients with COD in substance abuse settings.
List service delivery issues that includes client access, assessment, treatment, comprehensive services, and continuity of care.
Define the guidelines for the development of a successful therapeutic relationship with individuals who have COD.
Explain specific techniques with proven success in treating clients with COD; identify key principles learned about recovery self-help programs as well as other resources available for ongoing care needs.
Dennis C. Daley, Ph.D., is director of the Center for Psychiatric and Chemical Dependency Services and an associate professor of psychiatry at the University of Pittsburgh Medical Center, Department of Psychiatry, at Western Psychiatric Institute and Clinic in Pittsburgh. Daley has been involved in managing and providing treatment services for people with alcohol and other drug problems and dual disorders for over two decades. He has written over 125 publications including journal articles, books, clinical manuals, client workbooks, and recovery guides.
Daley has authored numerous Hazelden publications including Dual Disorders: Counseling Clients with Chemical Dependency and Mental Illness; Celebrating Small Victories; A Family Guide to Dual Disorders; Coping with Dual Disorders; Preventing Relapse (workbook); Understanding Major Anxiety Disorders and Addiction (workbook); Understanding Bipolar Disorder and Addiction (workbook); Understanding Depression and Addiction (workbook); Understanding Personality Problems and Addiction (workbook); and Understanding Schizophrenia and Addiction (pamphlet and workbook). He teaches on these subjects throughout the United States and other countries.
Daley is also involved in several federally funded research projects on treatment of cocaine addiction and treatment of dual disorders. Daley authored the highly successful Living Sober I and Living Sober II Interactive Videotape Series and the Promise of Recovery Educational Videotape Series.
Internet Format - Coursework that is available immediately via a downloadable PDF file (a popular online format that requires you to have the Adobe Reader program, or one similar, installed on your computer). Many websites already use this very user friendly file format, so chances are you already have a PDF reader installed on your computer. This format allows faster downloading, easier reading, and easier printing. All course materials will be included, as will the link to the post-test required for course completion. Access and downloading information will be immediately sent to the email address you provide at checkout. There is no additional charge for this format.
USB Flash Drive Format - Different computers, processors, ISP's, and software make it sometimes difficult or time-consuming to capture materials provided via the Internet. As a result, we've added the Flash Drive format to our list of options. With this format we will send you a Flash Drive by Priority Mail that can be used on any computer, laptop, tablet with a USB port. The drive will include a PDF copy of the course or courses ordered along with the test link needed to complete your course using our online test system. This option will include additional per course costs for materials/shipping/handling.
Hard Copy Format - Coursework that is delivered to you by Priority Mail in book form. All course materials will be included, as will the post-test required for course completion. For immediate results and faster certificate processing an email containing instructions on how to access your post-test online will be sent to the email address provided at checkout. Should you not want to submit the test yourself, a mail/fax form is also included that will allow you to mail or fax your test responses to us for processing. Hard copy courses will include additional per course costs for materials/shipping/handling.
---
Share this Product
---
More from this collection