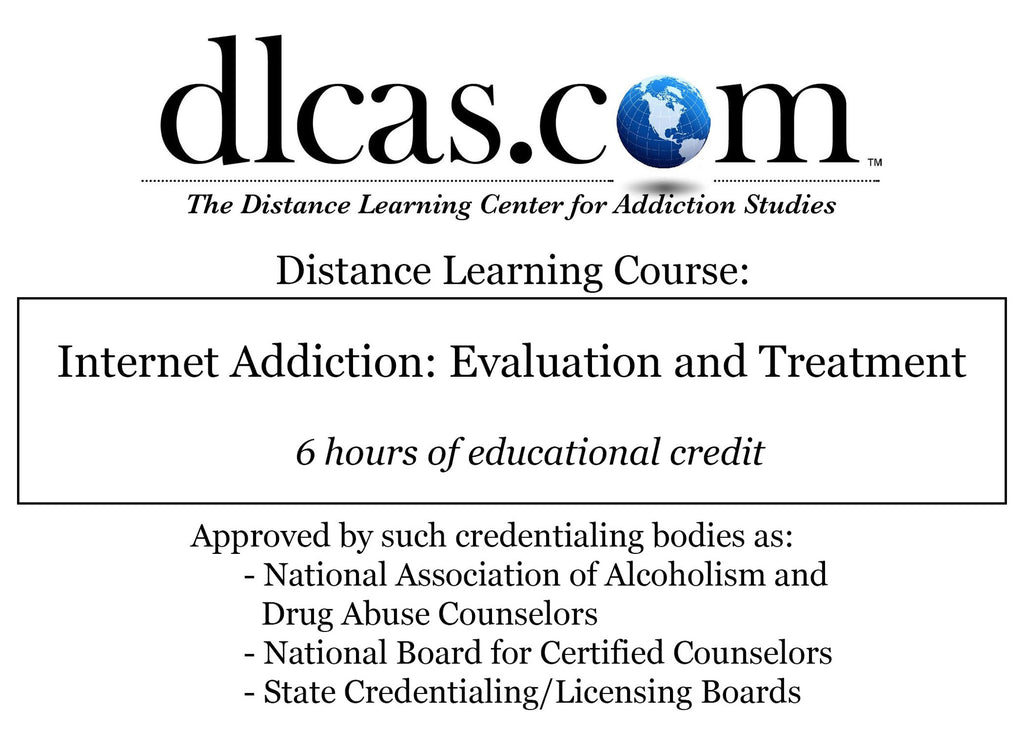 Internet Addiction: Evaluation and Treatment (6 hours)
---
This 6 hour course by Dr. Kimberly Young will introduce students to key concepts and issues in treating the growing problem of Internet Addiction.  Over 120 million Americans are addicted to the Internet according to recent studies, and another 12 million are estimated to go online in the next year alone. The popularity of the Internet has created a stir in the mental health community as professionals are seeing more and more cases of Internet addiction in their practice. Given the newness of the disorder, therapists often feel unprepared to properly assess and treat the problem and often don't understand how the Internet actually works. This innovative course outlines how to diagnosis and evaluate this new kind of compulsive behavior.
Goals/Objectives
By taking in this Distance Learning Course the trainee will:
Differentiate compulsive from normal patterns of Internet use.
Understand the risk factors and consequences associated with the development of Internet abuse among individuals.
Assess for Internet addiction with specialized evaluation instruments.
Design a comprehensive treatment plan for the Internet-addicted client.
Dr. Kimberly S. Young has been touted as "the world's foremost Cyberpsychologist" and is an internationally known researcher, author, and speaker on the impact of technology on human behavior. Dr. Young is a licensed psychologist and has testified regarding her pioneer research including the Child Online Protection Act Congressional Committee. She has published numerous articles about online behavior and authored Caught in the Net, a ground-breaking book on Internet addiction recovery, already translated in six languages, and her latest book, Tangled in the Web, which explores cybersex fantasy and its potential for addiction.
Dr. Young serves as the executive director of the Center for Online Addiction and travels both domestically and abroad to conduct workshops on the treatment of cyber-related disorders. Her work has been featured in hundreds of newsprint publications worldwide including major articles in The Wall Street Journal, USA Today, Forbes, The New York Times, Newsweek, and Time and she is a frequent media commentator for radio and television programs including NPR, the BBC, CNN, CNBC News, Fox News, Good Morning America, 20/20, The Leeza Show, and ABC's World News Tonight. She has been an invited lecturer at over 16 colleges and universities regarding the impact of student Internet abuse and served as a keynote speaker for the First International Congress on Internet addiction held in Zurich.
Internet Format - Coursework that is available immediately via a downloadable PDF file (a popular online format that requires you to have the Adobe Reader program, or one similar, installed on your computer). Many websites already use this very user friendly file format, so chances are you already have a PDF reader installed on your computer. This format allows faster downloading, easier reading, and easier printing. All course materials will be included, as will the link to the post-test required for course completion. Access and downloading information will be immediately sent to the email address you provide at checkout. There is no additional charge for this format.
USB Flash Drive Format - Different computers, processors, ISP's, and software make it sometimes difficult or time-consuming to capture materials provided via the Internet. As a result, we've added the Flash Drive format to our list of options. With this format we will send you a Flash Drive by Priority Mail that can be used on any computer, laptop, tablet with a USB port. The drive will include a PDF copy of the course or courses ordered along with the test link needed to complete your course using our online test system. This option will include additional per course costs for materials/shipping/handling.
Hard Copy Format - Coursework that is delivered to you by Priority Mail in book form. All course materials will be included, as will the post-test required for course completion. For immediate results and faster certificate processing an email containing instructions on how to access your post-test online will be sent to the email address provided at checkout. Should you not want to submit the test yourself, a mail/fax form is also included that will allow you to mail or fax your test responses to us for processing. Hard copy courses will include additional per course costs for materials/shipping/handling.
---
Share this Product
---
More from this collection