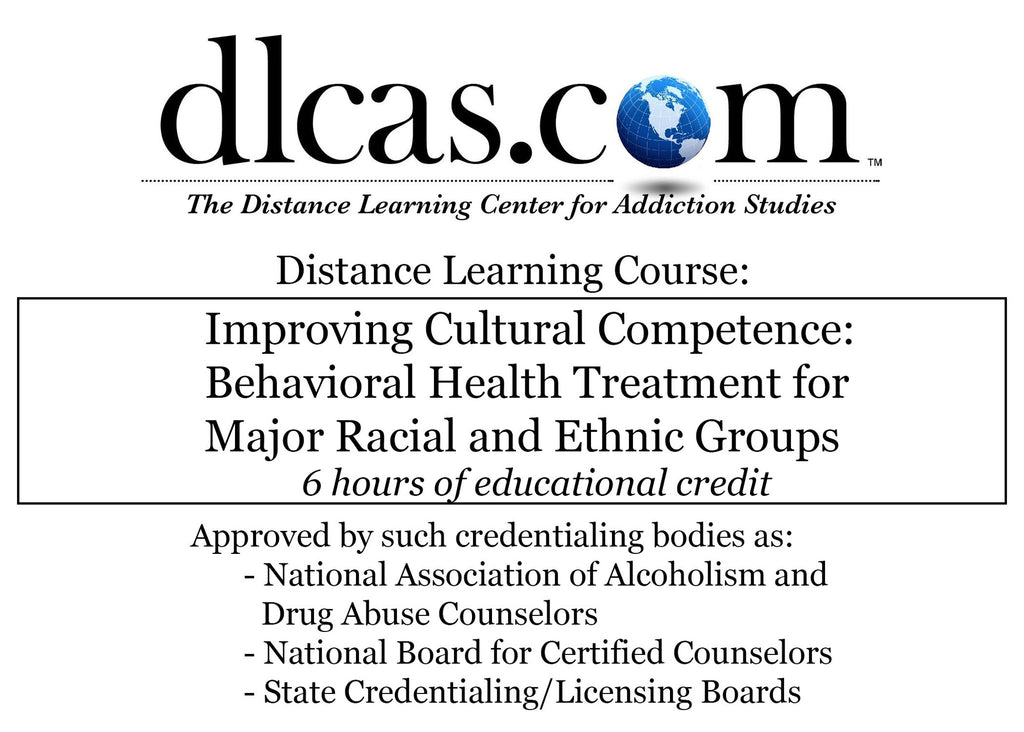 Improving Cultural Competence: Behavioral Health Treatment for Major Racial and Ethnic Groups (6 hours)
---
This 6 hour course by Laurie Rokutani will provide a general introduction for each major racial and ethnic group, providing specific cultural knowledge related to substance use patterns, beliefs and attitudes toward help-seeking behavior and treatment, and an overview of research- and practice-based treatment approaches and interventions. This course is part of our Improving Cultural Competence Series coursework.
The courses in the Series are as follow:
Improving Cultural Competence: Introduction to Cultural Competence and Core (6 hours)
Improving Cultural Competence: Culturally Responsive Evaluation and Treatment (3 hours)
Improving Cultural Competence: Pursuing Organizational Cultural Competence (3 hours)
Improving Cultural Competence: Behavioral Health Treatment for Major Racial and Ethnic Groups (6 hours)
This series is intended to help counselors and behavioral health organizations make progress toward cultural competence. Gaining cultural competence, like any important counseling skill, is an ongoing process that is never completed; such skills cannot be taught in any single book or training session. Nevertheless, this series provides a framework to help practitioners and administrators integrate cultural factors into their evaluation and treatment of clients with behavioral health disorders. It also seeks to motivate professionals and organizations to examine and broaden their cultural awareness, embrace diversity, and develop a heightened respect for people of all cultural groups.
This series places significant importance on the role of program management and organizational commitment in the development of cultural competence. Organizational support allows counselors, case managers, and administrators to begin to integrate culturally congruent and responsive services more consistently across the continuum of care — including outreach and early intervention, assessment, treatment planning and intervention, and recovery services.
Intended Audience
The primary audiences for these courses are prevention professionals, substance abuse counselors, mental health clinicians, and other behavioral health service providers and administrators. Those who work with culturally diverse populations will find it particularly useful, though all behavioral health workers — regardless of their client populations — can benefit from an awareness of the importance of culture in shaping their own perceptions as well as those of their clients. Secondary audiences include educators, researchers, policymakers for treatment and related services, consumers, and other healthcare and social service professionals who work with clients who have behavioral health disorders.
The key objectives are helping students understand:
Why it is important for behavioral health organizations and counselors who provide prevention and treatment services to consider culture.
The role culture plays in the treatment process, both generally and with reference to specific cultural groups.
Laurie Rokutani has been a counselor for over twenty years, serving a wide variety of clientele (from indigent substance abusers to the very affluent) in a wide variety of settings (private practice to community agencies) in various geographical locations (coast to coast and in between!). From her beginning in general counseling to substance abusing clients, she shifted gears into substance abuse prevention (K-12), then into Student Assistance Program counseling and coordination. From there she left direct service and went into academia, where she is currently teaching both prevention and counseling courses. She is also currently providing prevention consultation to schools and agencies as a part of the counseling program's emphasis in addictions counseling and prevention.
Internet Format - Coursework that is available immediately via a downloadable PDF file (a popular online format that requires you to have the Adobe Reader program, or one similar, installed on your computer). Many websites already use this very user friendly file format, so chances are you already have a PDF reader installed on your computer. This format allows faster downloading, easier reading, and easier printing. All course materials will be included, as will the link to the post-test required for course completion. Access and downloading information will be immediately sent to the email address you provide at checkout. There is no additional charge for this format.
USB Flash Drive Format - Different computers, processors, ISP's, and software make it sometimes difficult or time-consuming to capture materials provided via the Internet. As a result, we've added the Flash Drive format to our list of options. With this format we will send you a Flash Drive by Priority Mail that can be used on any computer, laptop, tablet with a USB port. The drive will include a PDF copy of the course or courses ordered along with the test link needed to complete your course using our online test system. This option will include additional per course costs for materials/shipping/handling.
Hard Copy Format - Coursework that is delivered to you by Priority Mail in book form. All course materials will be included, as will the post-test required for course completion. For immediate results and faster certificate processing an email containing instructions on how to access your post-test online will be sent to the email address provided at checkout. Should you not want to submit the test yourself, a mail/fax form is also included that will allow you to mail or fax your test responses to us for processing. Hard copy courses will include additional per course costs for materials/shipping/handling.
---
Share this Product
---
More from this collection