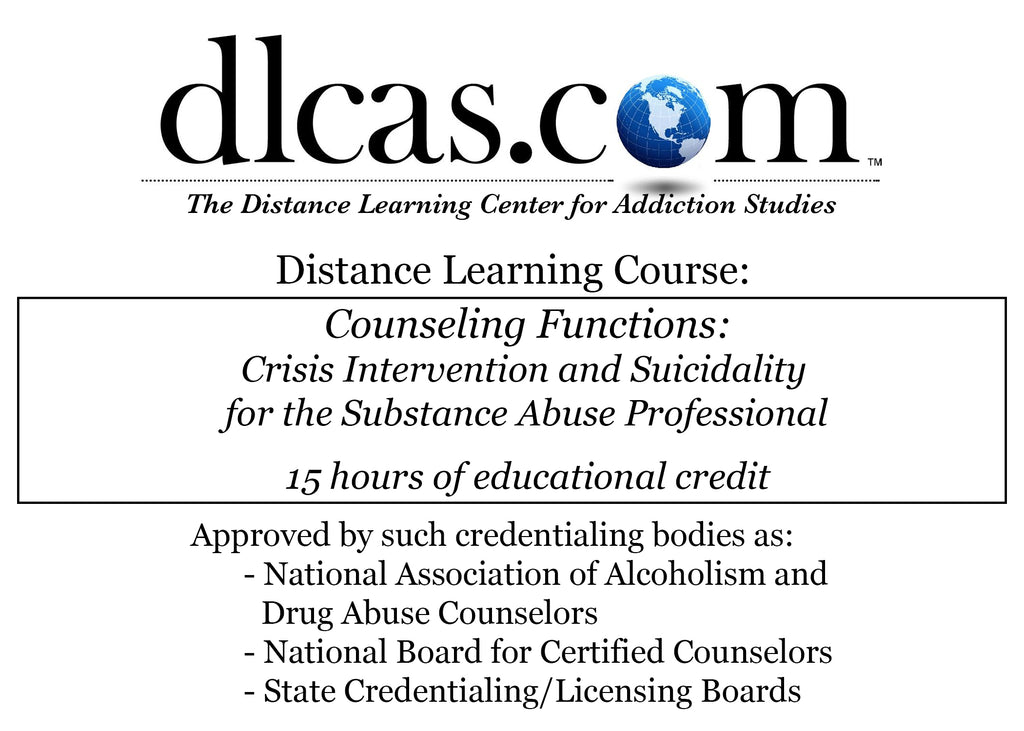 Counseling Functions: Crisis Intervention and Suicidality for the Substance Abuse Professional (15 hours)
---
This 15 hour course by Lawrence Clayton and Kevin Scheel provides an in-depth look at the counseling function of crisis intervention. This course provided a detailed look at the types of problems and crises typically faced by clients seeking chemical dependency treatment. Includes a detailed examination on the guidelines for the identification, assessment, and treatment of suicidality.
Goals/Objectives
By participating in this Distance Learning Course, the trainee will:
Recognize the components of a crisis.
Examine methods to appropriately assess client needs during a crisis.
Evaluate methods to employ strategies to resolve the various crises that are common to clients.
Seek ways to use crises to further the therapeutic aims of treatment.
Learn to develop an adequate referral base for use in dealing with client crises.
Identify ways to prevent burnout due to ineffective self-care.
Explore guidelines for identification, assessment, and treatment planning for suicidality.
Learn how to screen clients for suicidal thoughts and behaviors routinely at intake and at specific points in the course of treatment.
Recognize the need to screen clients with high risk factors regularly throughout treatment.
Develop and implement treatment plans to address suicidality and coordinate the plan with other providers.
Establish referral processes and create mechanisms to know that referral appointments are kept.
Identify how to monitor clients after crises have passed, through ongoing coordination with mental health providers and other practitioners, family members, and community resources, as appropriate.
Acquire basic knowledge about the role of warning signs, risk factors, and protective factors as they relate to suicide risk.
Recognize the need to be empathic and nonjudgmental with people who experience suicidal thoughts and behaviors.
Understand the impact of the counselor's own attitudes and experiences with suicidality on their counseling work with clients.
Learn the ethical and legal principles and potential areas of conflict that exist in working with clients who have suicidal thoughts and behaviors.
Identify methods on how to implement a specific intervention.
Use vignettes to identify strategies and possible alternative techniques for working with suicidal clients.
Lawrence Clayton, Ph. D., is the Past President of the Oklahoma Drug and Alcohol Professional Counselor Certification Board. In 1994, he was selected as Oklahoma Alcohol and Drug Counselor of the Year by the Oklahoma Drug and Alcohol Counselor Association.
He has served as a board member of the International Certification and Reciprocity Consortium, the group which sets the certification standards for drug and alcohol counselors in 44 states, the District of Columbia, Puerto Rico, Guam, Indian Health Services, all branches of the US Armed Forces, Malta, Canada, Sweden, The United Kingdom, Germany, Great Brittan, Bermuda, Greece, Cyprus, Singapore, Malaysia, the Federated States of Micronesia, the Cayman Islands, and Israel. He has chaired two IC & RC committees: the Written Test Committee and the Clinical Supervision Committee.
For the past thirty-one years he has worked with the chemically dependent as an ordained minister, an Internationally Certified Alcohol and Drug Counselor, a Certified Clinical Supervisor, and a Certified Program Director. He developed cancer and retired in 1995. He is an award-winning author, having written twenty-five books---most on the subject of chemical dependency, twenty-six curriculum guides and thirty-five articles.
Kevin R. Scheel, MS, LADC, MAC is a Masters prepared chemical dependency counselor and has been active in the human service field since 1974.  He has served as the director of programs in the public sector as well as in private care facilities, both in the profit and not-for-profit arenas. He has been involved in the delivery of education services to the field since 1986 as an instructor at McLennan Community College in Waco, Texas, and as a private training consultant with Hazelden. Mr. Scheel is the author of "Alcohol: Chemistry & Culture," as well as a series of education videotapes on the various drugs of abuse, published and marketed by WRS Group, Inc. He has also created a preparation and review manual that is currently in use by a variety of colleges and universities in Texas, designed to aid students preparing for their Texas chemical dependency credential.
While in Texas Kevin served as the Texas Coordinator for the federally funded Project for Addiction Counselor Training (PACT) program. For this project Mr. Scheel designed a 270 hour curriculum for beginning counselors, delivering over 45,000 hours of classroom training to 415 minority students. As a result of his efforts, 268 of these students have gone on to obtain their credentials to practice chemical dependency counseling in Texas.
Kevin also served in the position as Coordinator for the Texas Addiction Training Center (currently the Texas Addition Technology Transfer Center), a federally funded project from the Center for Substance Abuse Treatment in Washington, D.C. The goal of this project has been to increase the level of addiction education to the various disciplines offering counseling services to drug and alcohol affected clients. In Texas this project worked with 8 major colleges and universities.
Kevin is one of the co-founders of the Distance Learning Center for Addiction Studies (www.dlcas.com).  He continues to be active as a writer/author of materials for this training service.
Internet Format - Coursework that is available immediately via a downloadable PDF file (a popular online format that requires you to have the Adobe Reader program, or one similar, installed on your computer). Many websites already use this very user friendly file format, so chances are you already have a PDF reader installed on your computer. This format allows faster downloading, easier reading, and easier printing. All course materials will be included, as will the link to the post-test required for course completion. Access and downloading information will be immediately sent to the email address you provide at checkout. There is no additional charge for this format.
USB Flash Drive Format - Different computers, processors, ISP's, and software make it sometimes difficult or time-consuming to capture materials provided via the Internet. As a result, we've added the Flash Drive format to our list of options. With this format we will send you a Flash Drive by Priority Mail that can be used on any computer, laptop, tablet with a USB port. The drive will include a PDF copy of the course or courses ordered along with the test link needed to complete your course using our online test system. This option will include additional per course costs for materials/shipping/handling.
Hard Copy Format - Coursework that is delivered to you by Priority Mail in book form. All course materials will be included, as will the post-test required for course completion. For immediate results and faster certificate processing an email containing instructions on how to access your post-test online will be sent to the email address provided at checkout. Should you not want to submit the test yourself, a mail/fax form is also included that will allow you to mail or fax your test responses to us for processing. Hard copy courses will include additional per course costs for materials/shipping/handling.
---
Share this Product
---
More from this collection