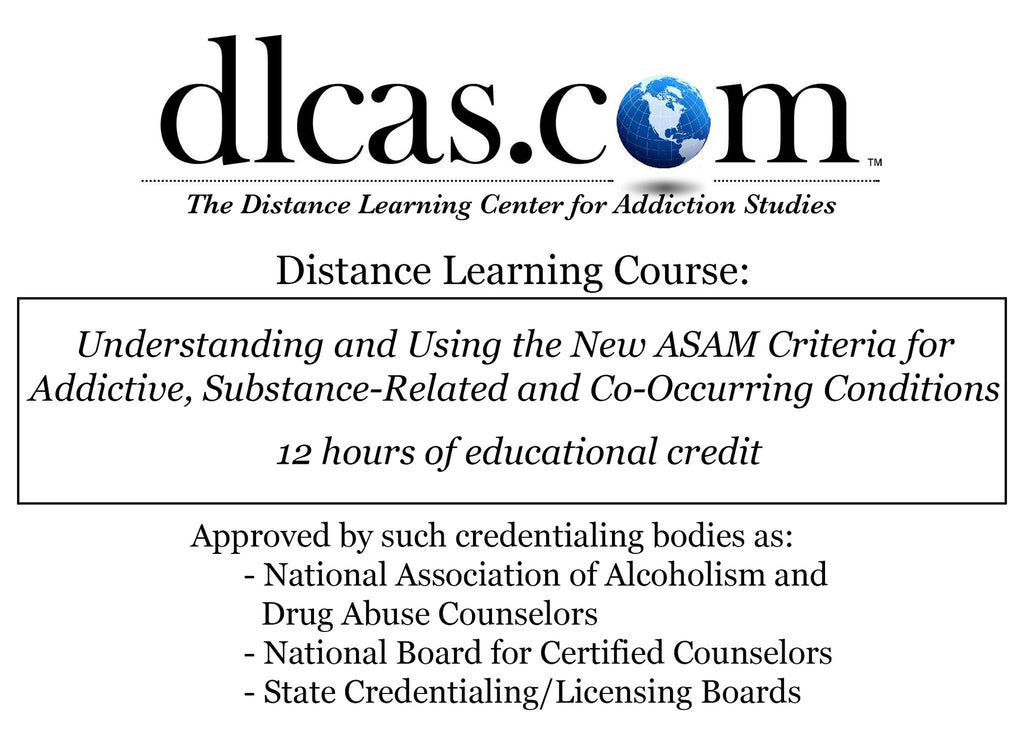 Understanding and Using the New ASAM Criteria for Addictive, Substance-Related and Co-Occurring Conditions (12 hours)
---
This 12 hour course by Gerald "Jerry" Shulman will provide the trainee with the basic underlying principles of the ASAM Criteria and their role in individualized treatment. It will also outline the various level of service and identify how the criteria guide the match of patients to the appropriate level of care. In addition, it will describe the changes from the ASAM PPC-2R as well as the new sections of the ASAM Criteria. The goal of his course is to provide the learner with sufficient skills to perform a comprehensive, ASAM six dimension assessment and use those results to organize a clinical summary and recommend clinically appropriate clinical placement. The course incorporates clinical practice suggestions and specific hands-on exercises to help understand how to begin to implement the ASAM Criteria and move from program-driven services to individualized treatment.
Goals/Objectives
By participating in this Distance Learning Course, the trainee will:
Describe the basic underlying concepts and principles of the ASAM Criteria.
Define the various levels of service; what defines the intensity of service; and how they fit together into a continuum of care.
Describe the changes in the DSM-5 which impact on the diagnosis of substance use disorders.
Apply the diagnostic and admission criteria and how to use them to match patients to appropriate levels of service.
Identify and use the changes from the ASAM PPC-2R to the ASAM Treatment Criteria for Addictive, Substance-Related and Co-Occurring Disorders.

Apply the information about the four special populations to their patients in such populations.

Assess patients for gambling problems.

Apply information about tobacco use disorder to program approaches to smoking and patient treatment of tobacco use disorders.

Summarize beginning steps to implement the ASAM Criteria to move from program-driven care to person-centered, individualized services.

Apply the changes in Substance Use Disorders section in the DSM-5 to the diagnostic assessment process and the use of the ASAM Criteria.
Gerald "Jerry" Shulman, President of Shulman & Associates, Training and Consulting in Behavioral Health is based in Jacksonville, FL. He has been involved full time for over 50 years as a clinician, clinical supervisor, administrator, trainer and consultant providing services in 44 states and 6 foreign countries. His work has concentrated on developing and promoting innovative behavioral health treatment that values clinical integrity, high quality, and cost-consciousness. The focus of his training and consulting is the ASAM Criteria (he is an author of each of the four editions as well as the ASAM Supplement on Pharmacotherapy for Alcohol Use Disorders), the DSM-5, relapse prevention, customer service in behavioral health, older adults with substance use and mental health disorders, treatment planning, assessment, gambling disorders, case management and pharmacotherapy for substance use disorders. He is a licensed psychologist, Master Addiction Counselor and a Fellow of the American College of Addiction Treatment Administrators. He was Chair of the Criteria Committee of the National Association of Addiction Treatment Programs (NAATP), a forerunner of the ASAM Criteria.
Jerry Shulman has published over 100 articles, books, book chapters and assessment instruments, has revised state SUD and mental licensing criteria and admission, continued service and discharge criteria for insurance companies and managed care organizations.
Internet Format - Coursework that is available immediately via a downloadable PDF file (a popular online format that requires you to have the Adobe Reader program, or one similar, installed on your computer). Many websites already use this very user friendly file format, so chances are you already have a PDF reader installed on your computer. This format allows faster downloading, easier reading, and easier printing. All course materials will be included, as will the link to the post-test required for course completion. Access and downloading information will be immediately sent to the email address you provide at checkout. There is no additional charge for this format.
USB Flash Drive Format - Different computers, processors, ISP's, and software make it sometimes difficult or time-consuming to capture materials provided via the Internet. As a result, we've added the Flash Drive format to our list of options. With this format we will send you a Flash Drive by Priority Mail that can be used on any computer, laptop, tablet with a USB port. The drive will include a PDF copy of the course or courses ordered along with the test link needed to complete your course using our online test system. This option will include additional per course costs for materials/shipping/handling.
Hard Copy Format - Coursework that is delivered to you by Priority Mail in book form. All course materials will be included, as will the post-test required for course completion. For immediate results and faster certificate processing an email containing instructions on how to access your post-test online will be sent to the email address provided at checkout. Should you not want to submit the test yourself, a mail/fax form is also included that will allow you to mail or fax your test responses to us for processing. Hard copy courses will include additional per course costs for materials/shipping/handling.
---
Share this Product
---
More from this collection