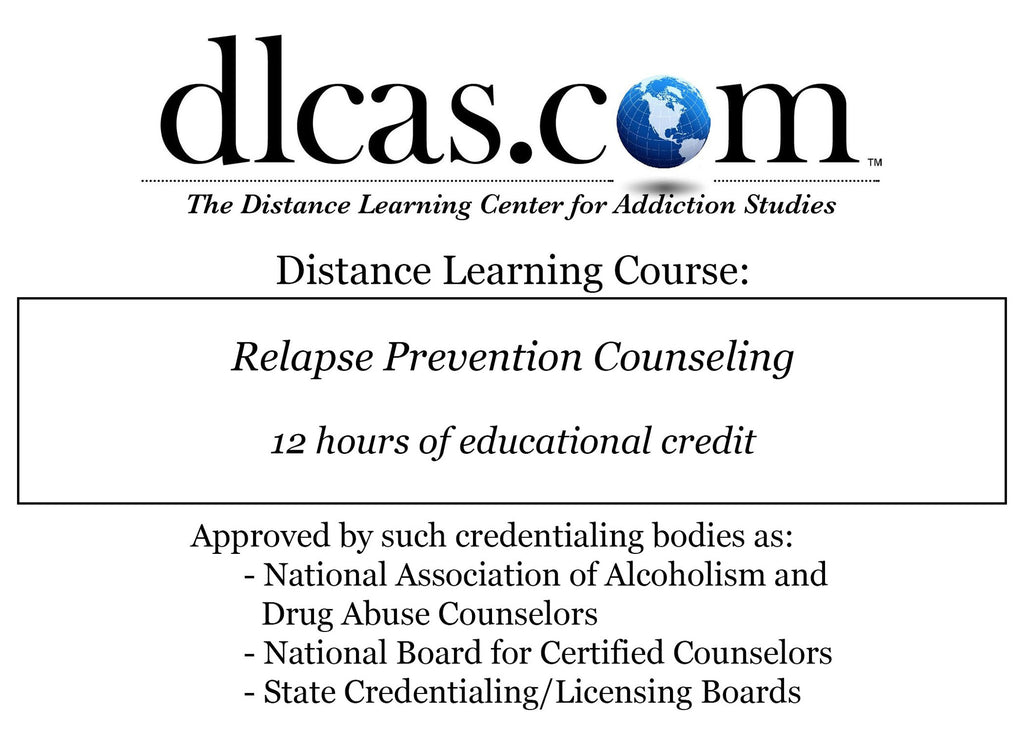 Relapse Prevention Counseling (12 hours)
---
This 12 hour is designed to help clinicians and other providers understand and facilitate the process of recovery and reduce the risk of relapse among clients or patients with substance use disorders, including those with co-occurring psychiatric disorders. The primary goal is to provide clinical strategies and tools to use in individual, group or family sessions. Sources of information for this course include clinical trials, meta-analyses of treatment studies, clinical literature, treatment manuals, recovery literature, our extensive experiences as clinicians, researchers and educators, and our experiences developing clinical programs and materials for individuals and families that focus on recovery and RP.
Goals/Objectives
By participating in this Distance Learning Course the trainee will:
Identify concepts of recovery, definitions of lapse and relapse for SUDs, and relapse and recurrence for psychiatric disorders.
Examine relapse prevention (RP), treatment models that incorporate RP principles, specific models of RP and research support for RP.
Discuss counseling strategies to promote recovery and reduce relapse risk, to include:

Motivation for change
Adherence and retention in treatment and recovery programs • Managing a substance use and/or other addictive disorder
Managing a psychiatric illness
Medication-assisted treatments
Managing emotions
Family and interpersonal relationships
Support systems and mutual support programs
Relapse prevention and intervention
Lifestyle changes

Examine counseling tools that can be used in individual, group or family sessions. 
Review group interventions and formats for outpatient and residential settings, orienting clients to groups, and strategies for group leaders to cover specific content in group sessions.
Review structured groups on RP with co-occurring disorders.
Explore process therapy or problem solving groups that focus on a broad range of issues in ongoing recovery and RP for clients with SUDs or co-occurring disorders.
Review concepts which center on relapse and the family.
Dr. Dennis Daley, Ph. D, is professor of psychiatry in the department of psychiatry at Western Psychiatric Institute and Clinic (WPIC) at the University Of Pittsburgh School of Medicine. He served for 14 years as chief of addiction medicine services (AMS) at WPIC. AMS includes a large continuum of prevention, intervention and treatment programs in multiple settings. He has provided clinical care to clients and families for over 35 years. Dr. Daley also holds an appointment as professor of social work at the University of Pittsburgh and served for 10 years as a part-time faculty member at The Pennsylvania State University and 10 years at Indiana University of Pennsylvania. Dr. Daley has presented hundreds of educational and training programs throughout the U.S. and Canada, and in Mexico, Europe and Asia.
Dr. Daley is principal investigator of the Appalachian Tri-State (ATS) Node of the Clinical Trials Network (CTN) of The National Institute on Drug Abuse (NIDA). He has served as researcher on numerous studies funded by NIDA, the National Institute on Alcohol Abuse and Alcoholism, and other sources. Dr. Daley has been a trainer or consultant on studies at Harvard Medical School, the University of Pittsburgh School of Medicine and Spaulding University.
Dr. Daley has over 300 publications including books and workbooks on recovery from addiction, mental illness, co-occurring disorders, relapse prevention, emotions, moods, and family recovery. He has written materials for children and adolescents as well as adults. Dr. Daley developed and wrote 35 educational videos including the highly popular Living Sober interactive series, and Staying Sober, Keeping Straight, an educational program on relapse prevention for individuals in treatment. Several of his books and recovery guides have been translated to foreign languages. He was one of the first in the U.S. to develop clinical programs, a treatment manual, and recovery materials on relapse prevention for individuals in recovery and collaborated with the late Dr. G. Alan Marlatt who is considered the pioneer of relapse prevention. Dr. Daley also contributes regular columns to The Counselor on issues in behavioral healthcare, and to Counselor Connection on recovery and personal growth.
He has consulted with numerous treatment programs and facilities in the U.S. and Europe, including an employee assistance program, athletic department, health plan and the veterans' administration healthcare system.
Dr. Antoine Douaihy, MD, is associate professor of psychiatry, medical director of Addiction Medicine Services and medical director of WPIC s inpatient dual diagnosis programs. He also serves as the senior psychiatrist at the Pittsburgh AIDS Center for Treatment of the University of Pittsburgh Medical Center (UPMC). Dr. Douaihy has provided clinical leadership and services for many years throughout UPMC and at the School of Medicine. He has expertise in helping individuals with substance use, psychiatric or co-occurring disorders, including those with HIV or Hepatitis C. Dr. Douaihy also has a strong interest in medication-assisted treatments for addiction, including smoking cessation treatments for tobacco use disorders.
Dr. Douaihy has worked with Dr. Daley on several clinical, educational and research projects, and served as the principal investigator on five studies. He is medical director and an investigator in the ATS Node of the Clinical Trials Network project. Dr. Douaihy has organized and presented numerous workshops, symposia, and Grand Rounds, nationally and internationally on numerous clinical topics. Dr. Douaihy has been or is an investigator on numerous NIDA, NIAAA, NIMH or industry-sponsored trials, including psychosocial interventions and motivational interviewing. He collaborates as a Co-I on projects with the Pennsylvania Mid-Atlantic AIDS Education and Training Center (AETC) and serves as a member of the Pittsburgh HIV Commission. Over the past 15 years, Dr. Douaihy has received 20 awards for outstanding teaching of medical students and psychiatric residents and has been a champion in promoting the need for physicians to integrate focus on substance use problems among individuals treated in medical and psychiatric settings. He has authored or co-authored numerous books and chapters, papers, and recovery guides for individuals and families. 
Internet Format - Coursework that is available immediately via a downloadable PDF file (a popular online format that requires you to have the Adobe Reader program, or one similar, installed on your computer). Many websites already use this very user friendly file format, so chances are you already have a PDF reader installed on your computer. This format allows faster downloading, easier reading, and easier printing. All course materials will be included, as will the link to the post-test required for course completion. Access and downloading information will be immediately sent to the email address you provide at checkout. There is no additional charge for this format.
USB Flash Drive Format - Different computers, processors, ISP's, and software make it sometimes difficult or time-consuming to capture materials provided via the Internet. As a result, we've added the Flash Drive format to our list of options. With this format we will send you a Flash Drive by Priority Mail that can be used on any computer, laptop, tablet with a USB port. The drive will include a PDF copy of the course or courses ordered along with the test link needed to complete your course using our online test system. This option will include additional per course costs for materials/shipping/handling.
Hard Copy Format - Coursework that is delivered to you by Priority Mail in book form. All course materials will be included, as will the post-test required for course completion. For immediate results and faster certificate processing an email containing instructions on how to access your post-test online will be sent to the email address provided at checkout. Should you not want to submit the test yourself, a mail/fax form is also included that will allow you to mail or fax your test responses to us for processing. Hard copy courses will include additional per course costs for materials/shipping/handling.
---
Share this Product
---
More from this collection