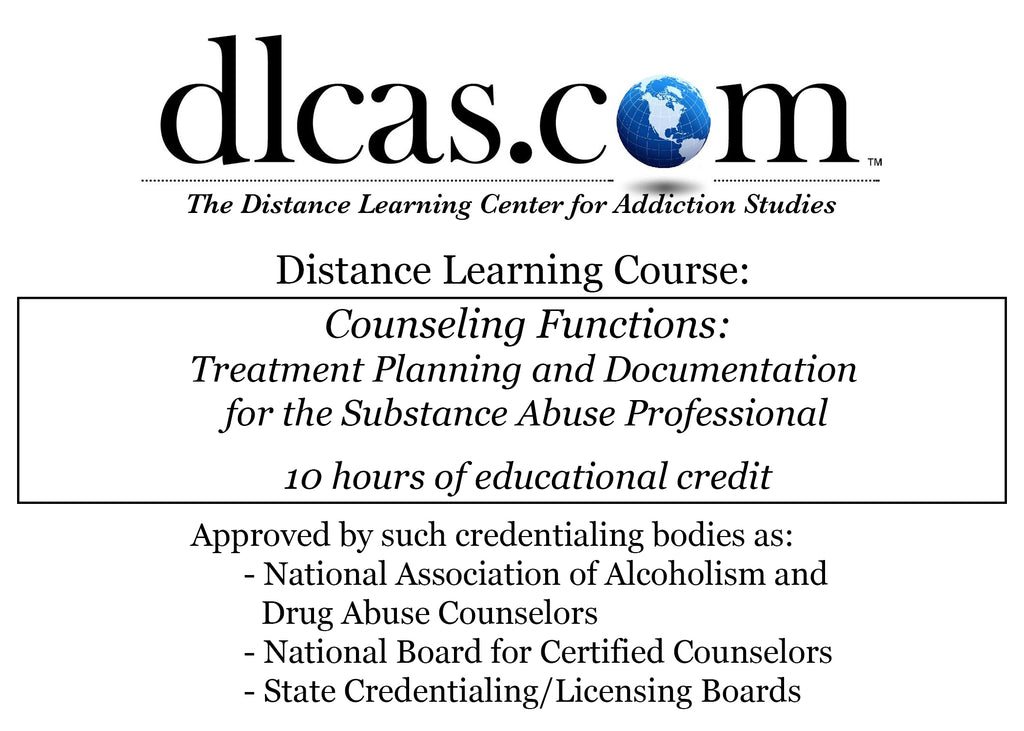 Counseling Functions: Treatment Planning and Documentation for the Substance Abuse Professional (10 hours)
---
This 10 hour course by Jim Jensen provides in-depth knowledge on issues related to the counseling functions of treatment planning and documentation. This course has been designed to address the art as well as the science of treatment planning, as well as the need counselors have in documenting critical information in the client record.
Goals/Objectives
By participating in this Distance Learning Course, the trainee will:
Identify critical issues of the assessment stage.
Examine elements that make up a good assessment.
Evaluation of both the art and science of the interviewing process.
Review key decision making elements of the treatment plan formulation process.
Learn to write problem statements as well as clinical summaries.
Understand the implementation process of treatment planning.
Learn the differences between goals, objective, and interventions.
Identify key elements of the documentation process.
Review formats for documentation.
Jim Jensen, M.S., began his work in the behavioral health field in 1974. During the past thirty years he has worked in the U.S. and abroad in a variety of clinical, consulting, and administrative positions. In 1982 he co-founded a residential addictions treatment facility in Great Britain. During this period Jim also assisted with the production of an Al-Anon film and consulted with the British government on the development of their national drug policy.
Throughout the 1990's Jim worked as a consultant and trainer while conducting numerous training events throughout the U.S., including the 1991 NAADAC professional convention. He has extensive experience in consultation to Native American addiction programs as well. Jim published several times in trade magazines and produced a companion training video on clinical documentation.
Jim holds master's degrees in Organizational Development and Community Counseling and is dually licensed as an addiction's counselor and clinical professional counselor. He is currently working as a program/training supervisor for a behavioral health organization that provides a variety of community-based, therapeutic services to children and adolescents. Jim has also been a program surveyor for CARF-International since 1994.
Internet Format - Coursework that is available immediately via a downloadable PDF file (a popular online format that requires you to have the Adobe Reader program, or one similar, installed on your computer). Many websites already use this very user friendly file format, so chances are you already have a PDF reader installed on your computer. This format allows faster downloading, easier reading, and easier printing. All course materials will be included, as will the link to the post-test required for course completion. Access and downloading information will be immediately sent to the email address you provide at checkout. There is no additional charge for this format.
USB Flash Drive Format - Different computers, processors, ISP's, and software make it sometimes difficult or time-consuming to capture materials provided via the Internet. As a result, we've added the Flash Drive format to our list of options. With this format we will send you a Flash Drive by Priority Mail that can be used on any computer, laptop, tablet with a USB port. The drive will include a PDF copy of the course or courses ordered along with the test link needed to complete your course using our online test system. This option will include additional per course costs for materials/shipping/handling.
Hard Copy Format - Coursework that is delivered to you by Priority Mail in book form. All course materials will be included, as will the post-test required for course completion. For immediate results and faster certificate processing an email containing instructions on how to access your post-test online will be sent to the email address provided at checkout. Should you not want to submit the test yourself, a mail/fax form is also included that will allow you to mail or fax your test responses to us for processing. Hard copy courses will include additional per course costs for materials/shipping/handling.
---
Share this Product
---
More from this collection