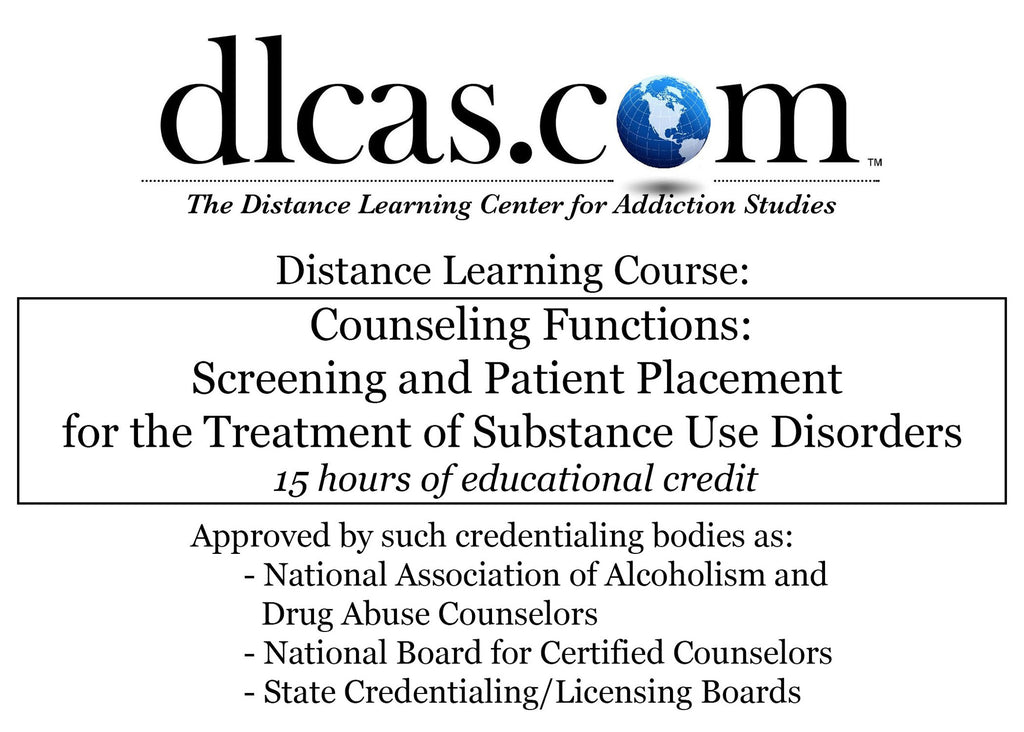 Counseling Functions: Screening & Patient Placement for the Treatment of Substance Use Disorders (15 hours)
---
This 15 hour course by Lowell Jenkins focuses on the skills and techniques of screening and patient placement services. It includes a look at a number of screening tools and instruments. An excellent course for both beginning and seasoned counselors alike.
Goals/Objectives
By participating in this Distance Learning Course, the trainee will:
Define screening as a core function of counseling.
Identify the steps involved in using uniform placement criteria.
Define the various levels of care available for treatment services.
Examine the various domains of information that are measured when interviewing clients.
Explore steps taken in the interview process.
Implement various and appropriate screening devices, including the SIG, CIWA-AR, SSA, NWS, CAGE, MAST, POSIT, and other devices.
Demonstrate knowledge of client rights as they relate to treatment services.
Utilize appropriate understanding of confidentiality guidelines and requirements.
List emerging challenges to providing effective screening services.
Lowell K. Jenkins, M.A., is President of Jenkins Training Technologies in Madison, Wisconsin which provides consultation, technical assistance, and design services in the areas of human resource development and the learning sciences. Lowell is an accomplished addiction counselor trainer, certification/licensure consultation, and manager of alcohol and drug counselor training activities for the past thirty years, both at the Wisconsin state level and at the national level.
He has been an active participant in the development of Wisconsin's counselor certification standards since the mid 1970's and influential in the development of the present national credentialing standards adopted by the ICRC. His long time service with the Wisconsin Bureau of Substance Abuse Services has permitted him to manage multiple state wide training systems, provide career consultation, develop and upgrade state supported addiction counselor training curricula and develop academic linkages with colleges and universities.
There are few individuals in the United States with more knowledge of the dynamic importance of screening and patient placement than Lowell Jenkins.
Internet Format - Coursework that is available immediately via a downloadable PDF file (a popular online format that requires you to have the Adobe Reader program, or one similar, installed on your computer). Many websites already use this very user friendly file format, so chances are you already have a PDF reader installed on your computer. This format allows faster downloading, easier reading, and easier printing. All course materials will be included, as will the link to the post-test required for course completion. Access and downloading information will be immediately sent to the email address you provide at checkout. There is no additional charge for this format.
USB Flash Drive Format - Different computers, processors, ISP's, and software make it sometimes difficult or time-consuming to capture materials provided via the Internet. As a result, we've added the Flash Drive format to our list of options. With this format we will send you a Flash Drive by Priority Mail that can be used on any computer, laptop, tablet with a USB port. The drive will include a PDF copy of the course or courses ordered along with the test link needed to complete your course using our online test system. This option will include additional per course costs for materials/shipping/handling.
Hard Copy Format - Coursework that is delivered to you by Priority Mail in book form. All course materials will be included, as will the post-test required for course completion. For immediate results and faster certificate processing an email containing instructions on how to access your post-test online will be sent to the email address provided at checkout. Should you not want to submit the test yourself, a mail/fax form is also included that will allow you to mail or fax your test responses to us for processing. Hard copy courses will include additional per course costs for materials/shipping/handling.
---
Share this Product
---
More from this collection