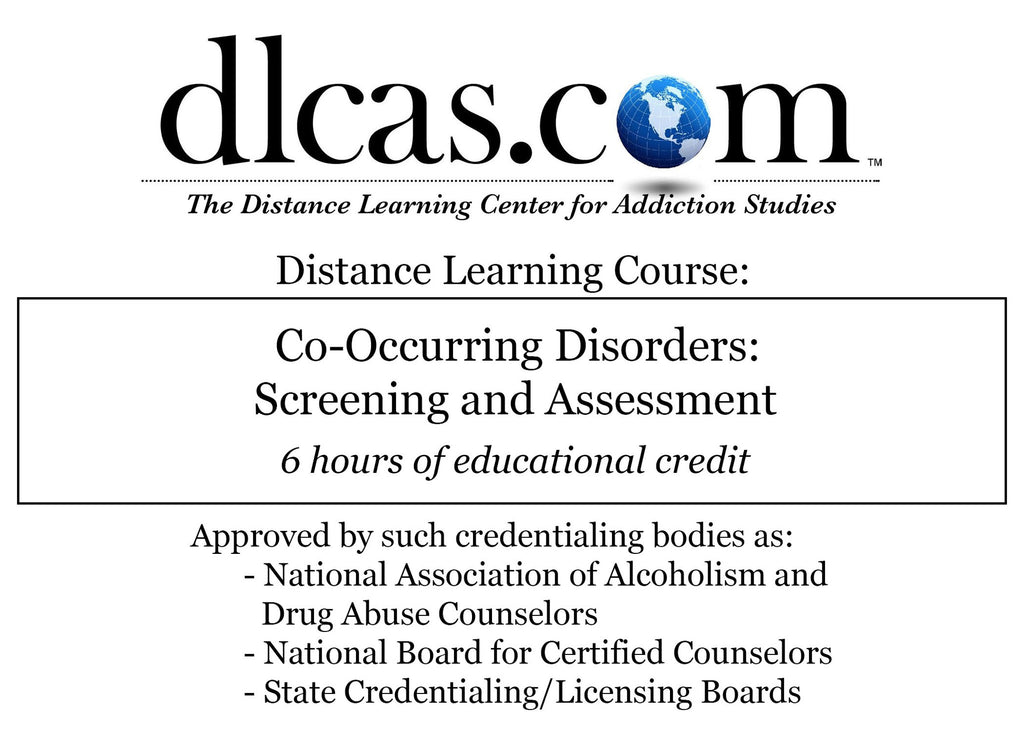 Co-Occurring Disorders: Screening and Assessment (6 hours)
---
This 6 hour course by Kevin Scheel will provide the trainee with information and issues related to screening and assessment of patients who have a psychiatric disorder in combination with an alcohol and other drug (AOD) use disorder. This Distance Learning Course contains specific information that focuses on tools and methods used when dealing with substance abusing clients who have COD. It is primarily intended for addiction treatment staff. However, it contains information and screening/assessment recommendations that can be used by healthcare providers in a variety of treatment settings. For example, it will be useful to people who work in primary care clinics, hospitals, and various mental health settings.
Goals/Objectives
By participating in this Distance Learning Course, the trainee will:
Identify and explain to a classmate five key principles of assessment.
Evaluate the use of selected assessment instruments for co-occurring disorders and list preferred usage of these instruments.
List the recommended sequential assessment process as it relates to client with COD.
Review additional screening and assessment tools, along with key information on the use of each instrument.
List the use of two specific screening instruments available for unrestricted use and explain the preferred usage protocol of each of these instruments.
Kevin R. Scheel, MS, LADC, MAC, is a Masters prepared chemical dependency counselor and has been active in the human service field since 1974. He has served as the director of programs in the public sector as well as in private care facilities, both in the profit and not-for-profit arenas. He has been involved in the delivery of education services to the field since 1986 as an instructor at McLennan Community College in Waco, Texas, and as a private training consultant with Hazelden. Mr. Scheel is the author of "Alcohol: Chemistry & Culture," as well as a series of education videotapes on the various drugs of abuse, published and marketed by WRS Group, Inc. He has also created a preparation and review manual that is currently in use by a variety of colleges and universities in Texas, designed to aid students preparing for their Texas chemical dependency credential.
While in Texas Kevin served as the Texas Coordinator for the federally funded Project for Addiction Counselor Training (PACT) program. For this project Mr. Scheel designed a 270 hour curriculum for beginning counselors, delivering over 45,000 hours of classroom training to 415 minority students. As a result of his efforts, 268 of these students have gone on to obtain their credentials to practice chemical dependency counseling in Texas.
Kevin also served in the position as Coordinator for the Texas Addiction Training Center (currently the Texas Addition Technology Transfer Center), a federally funded project from the Center for Substance Abuse Treatment in Washington, D.C. The goal of this project has been to increase the level of addiction education to the various disciplines offering counseling services to drug and alcohol affected clients. In Texas this project worked with 8 major colleges and universities.
Kevin is one of the co-founders of the Distance Learning Center for Addiction Studies (www.dlcas.com). He continues to be active as a writer/author of materials for this training service.
Internet Format - Coursework that is available immediately via a downloadable PDF file (a popular online format that requires you to have the Adobe Reader program, or one similar, installed on your computer). Many websites already use this very user friendly file format, so chances are you already have a PDF reader installed on your computer. This format allows faster downloading, easier reading, and easier printing. All course materials will be included, as will the link to the post-test required for course completion. Access and downloading information will be immediately sent to the email address you provide at checkout. There is no additional charge for this format.
USB Flash Drive Format - Different computers, processors, ISP's, and software make it sometimes difficult or time-consuming to capture materials provided via the Internet. As a result, we've added the Flash Drive format to our list of options. With this format we will send you a Flash Drive by Priority Mail that can be used on any computer, laptop, tablet with a USB port. The drive will include a PDF copy of the course or courses ordered along with the test link needed to complete your course using our online test system. This option will include additional per course costs for materials/shipping/handling.
Hard Copy Format - Coursework that is delivered to you by Priority Mail in book form. All course materials will be included, as will the post-test required for course completion. For immediate results and faster certificate processing an email containing instructions on how to access your post-test online will be sent to the email address provided at checkout. Should you not want to submit the test yourself, a mail/fax form is also included that will allow you to mail or fax your test responses to us for processing. Hard copy courses will include additional per course costs for materials/shipping/handling.
---
Share this Product
---
More from this collection