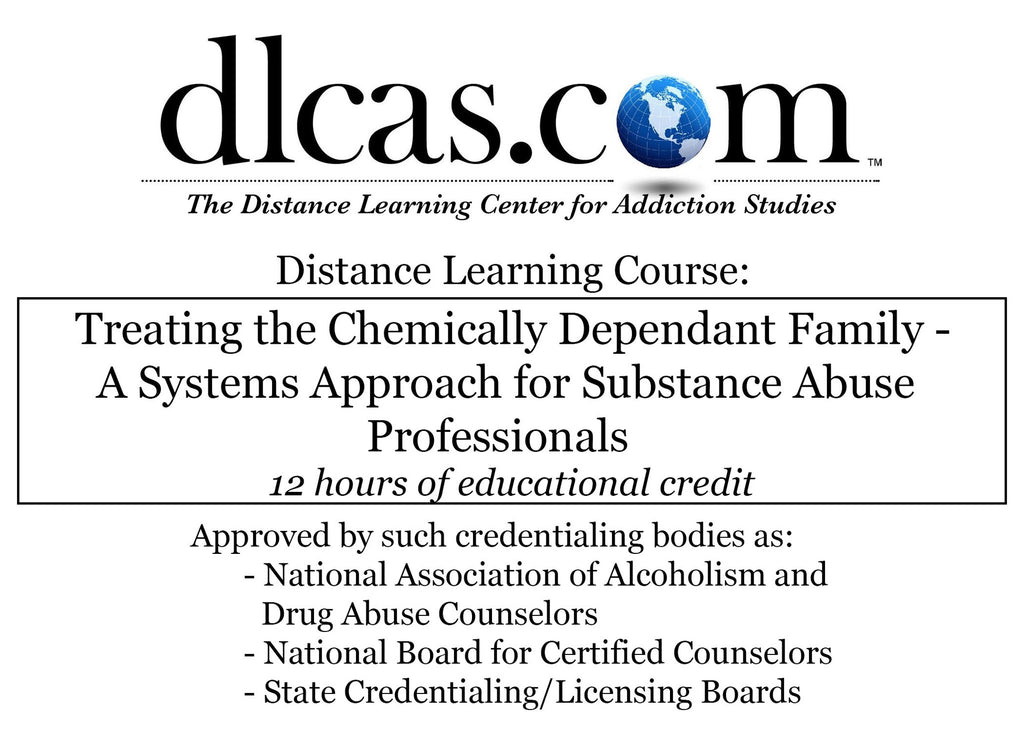 Treating the Chemically Dependent Family - A Systems Approach for Substance Abuse Professionals (12 hours)
---
This newly expanded 12 hour course by John Edwards focuses on how to do therapy with families in which at least one member is dependent on alcohol or other drugs. It presents approaches and methods for therapists to use in organizing their therapy with chemically dependent families, makes suggestions for treatment strategies, and offers specific, systems-based techniques. This is a clinical guidebook for working with CD families in the early stages of recovery from the disease.
Goals/Objectives
By participating in this Distance Learning Course the trainee will:
Learn about the systems orientation to therapy for chemically dependent families.
Differentiate between systems vs. individual orientation.
Develop understanding regarding chemically dependent families as systems.
Identify the advantages of working systematically with families.
Explore treatment goals for working with family systems.
Learn about the technique for mapping common patterns in chemically dependent families.
Review various case examples of mapping strategies.
Identify common patterns that exist in CD families.
Establish methods of creating enactments.
Examine a variety of other techniques for working with families.
Identify methods for getting families into therapy.
Explore the process used during the initial interview with families.
Examine methods for getting families to return for therapy.
Develop an understanding of the therapy sessions beyond the initial interview.
Look at relevant topics for remaining sessions.
John T. Edwards, PhD, earned his Ph.D. in Counseling Psychology from the University of Georgia in 1977. He is an Approved Supervisor in the American Association for Marriage and Family Therapy (AAMFT) and has conducted and supervised family therapy for the past twenty (20) years.
He has served as director of counseling in a family health center, clinical director of an inpatient family care program, private practitioner in marriage and family therapy and co-founder of a learning center for family therapy. Dr. Edwards has conducted numerous training events in the United States and Canada.
He is author of the books Treating Chemically Dependent Families: A Practical Systems Approach for Professionals and Working With Families. He is currently a private trainer and consultant living in Durham, North Carolina.
Internet Format - Coursework that is available immediately via a downloadable PDF file (a popular online format that requires you to have the Adobe Reader program, or one similar, installed on your computer). Many websites already use this very user friendly file format, so chances are you already have a PDF reader installed on your computer. This format allows faster downloading, easier reading, and easier printing. All course materials will be included, as will the link to the post-test required for course completion. Access and downloading information will be immediately sent to the email address you provide at checkout. There is no additional charge for this format.
USB Flash Drive Format - Different computers, processors, ISP's, and software make it sometimes difficult or time-consuming to capture materials provided via the Internet. As a result, we've added the Flash Drive format to our list of options. With this format we will send you a Flash Drive by Priority Mail that can be used on any computer, laptop, tablet with a USB port. The drive will include a PDF copy of the course or courses ordered along with the test link needed to complete your course using our online test system. This option will include additional per course costs for materials/shipping/handling.
Hard Copy Format - Coursework that is delivered to you by Priority Mail in book form. All course materials will be included, as will the post-test required for course completion. For immediate results and faster certificate processing an email containing instructions on how to access your post-test online will be sent to the email address provided at checkout. Should you not want to submit the test yourself, a mail/fax form is also included that will allow you to mail or fax your test responses to us for processing. Hard copy courses will include additional per course costs for materials/shipping/handling.
---
Share this Product
---
More from this collection