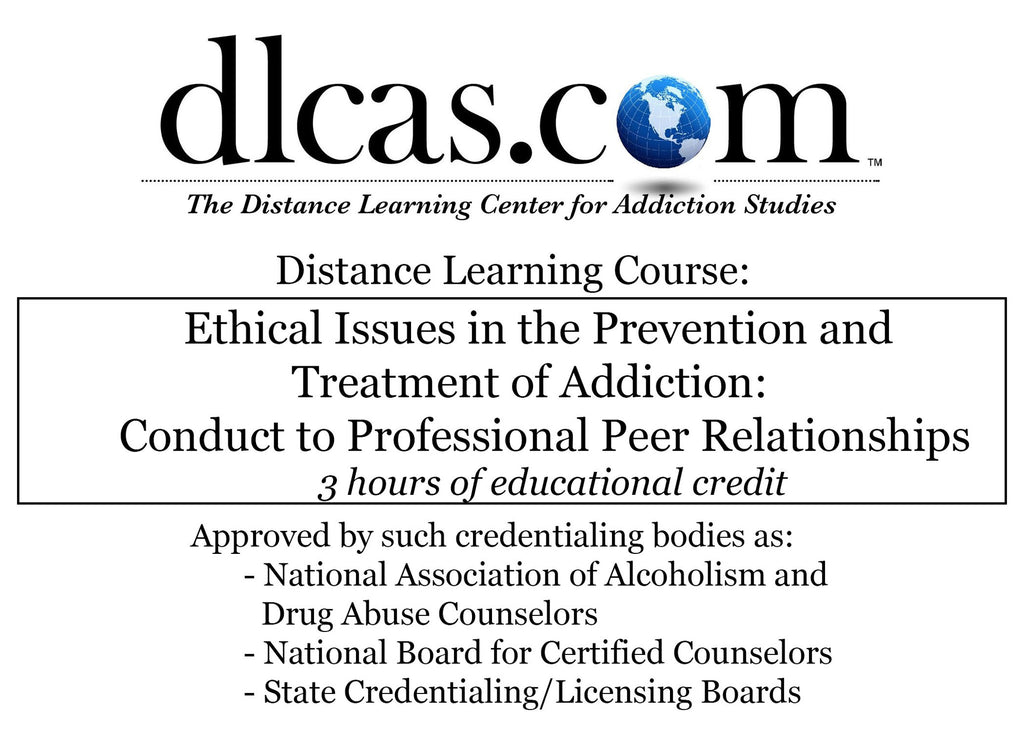 Ethical Issues in the Prevention and Treatment of Addiction: Conduct to Professional Peer Relationships (3 hours)
---
This 3 hour course by William White and Renée Popovits is designed to assist counselors in reviewing issues and needs related to ethical behaviors in the addiction treatment field. The materials presented will explore ethical issues in professional peer relationships within two separate contexts: peer relationships inside the helping organization and relationships with professional peers and agencies external to one's primary work place. It is one of five course developed from the book "Critical Incidents" Ethical Issues in the Prevention and Treatment of Addiction," by William White and Renée Popovits.
Goals/Objectives
By participating in this Distance Learning Course, the trainee will:
Examine counselor assumptions about personal and professional ethics.
Identify a system to effectively address professional practice issues.
Review ethical values and principles that guide counselor behavior.
Explore the development of a Code of Professional Practice.
Investigate a series of vignettes with regards to conduct within professional peer relationships Identify key elements related to the ethics of professional peer relationships.
William L. White is a Senior Research Consultant at Chestnut Health Systems/Lighthouse Institute. He has a Master's degree in Addiction Studies and more than 30 years of experience in the addictions field as a clinician, clinical director, administrator, researcher and well traveled trainer and consultant. He has provided ethics-related training throughout the United States. He has authored more than 70 articles and monographs, and seven books, including Slaying the Dragon – The History of Addiction Treatment and Recovery in America.
Renée Popovits is the founder of the Chicago-based law firm of Popovits and Robinson. She has represented a wide variety of substance abuse and mental health service agencies related to such issues as corporate transactions, regulatory and corporate compliance, confidentiality, licensure, reimbursement, contract, tax exemption, managed care, human resource, electronic records/HIPAA compliance, and public policy matters. She has lectured extensively and published articles on many of these issues.
The Lighthouse Institute, a division of Chestnut Health Systems, offers advanced technical education and training for health and human service organizations and a wide variety of management training, consultation, and research services available to organizations throughout the United States. The Institute also publishes books, curricula, and monographs on topics of interest to its clients.
Internet Format - Coursework that is available immediately via a downloadable PDF file (a popular online format that requires you to have the Adobe Reader program, or one similar, installed on your computer). Many websites already use this very user friendly file format, so chances are you already have a PDF reader installed on your computer. This format allows faster downloading, easier reading, and easier printing. All course materials will be included, as will the link to the post-test required for course completion. Access and downloading information will be immediately sent to the email address you provide at checkout. There is no additional charge for this format.
USB Flash Drive Format - Different computers, processors, ISP's, and software make it sometimes difficult or time-consuming to capture materials provided via the Internet. As a result, we've added the Flash Drive format to our list of options. With this format we will send you a Flash Drive by Priority Mail that can be used on any computer, laptop, tablet with a USB port. The drive will include a PDF copy of the course or courses ordered along with the test link needed to complete your course using our online test system. This option will include additional per course costs for materials/shipping/handling.
Hard Copy Format - Coursework that is delivered to you by Priority Mail in book form. All course materials will be included, as will the post-test required for course completion. For immediate results and faster certificate processing an email containing instructions on how to access your post-test online will be sent to the email address provided at checkout. Should you not want to submit the test yourself, a mail/fax form is also included that will allow you to mail or fax your test responses to us for processing. Hard copy courses will include additional per course costs for materials/shipping/handling.
---
Share this Product
---
More from this collection